It happens to the best of us. Nights when you've left it too late to get any sleep in before work, the nights that turn into days, or there are times when you just wanna have it. They can both make and break you.
BarChick is still amazed at how few places are open 24hrs, thank god some people out there have got your back.
If you find yourself knocking about Earls Court in the early hours then this is your spot. It's so much more than just a kebab joint! Head out back to their secret room (order a kebab on the way) and take your pick from wine or beer. They've got a TV, so ask nicely and you might get some Sky action. Plus they close at 6 so you're safe till then!
308 Earl's Court Road, London, SW5 9BA // Mon – Sun: 12pm – 6am
BarChick loves a good casino, and this is one of her favourites. Sure they've got a 24 hour food and drink licence but the real pull is the scrumptious steak at The Heliot Steakhouse. Settle in on black leather, tuck into your fillet and Dauphinoise potatoes and ogle over the swanky playing floor. They only serve till 1am but the casino has got your back with other 24 hour food and drink options as well as a 24 hour smoking terrace. Cheers to that.
Cranbourn Street, London, WC2H 7JH // 24hr
Great Suffolk Street Warehouse
Go in on Friday night, come out Monday morning and go straight to work. You might find nu rave trance, you might find dirty drum n bass, you will need sunglasses.
29 Great Suffolk Street, London, SE1 0NR // Check what nights are on and be sure to get a ticket
Black Jack, Roulette, Poker AND a bar and restaurant open all night, with breakfast served until 3am. Go and get the chips in and let's play.
30 Berkeley Street, London, W1J 8EH // 24hr
The Fulham Road veteran, has been re-fueling clubbers, footballers, and Sloanes for years. Serves food and alcohol 24/7 – You'll find it hard to find anywhere more civilised at 5am, and you may even need to queue.
325 Fulham Road, London SW10 9QL // 24hr
It's not for everyone – but they are open late, and they do have a pool and a jacuzzi in the club! Dodgy crowd, dodgy music, it's all hen do's and 80′s carwash styles. But they're loving it, so if you can't beat 'em, join 'em right?
256-264 Old Street, London, EC1V 9DD // Thurs: 11pm – 5am, Fri: 10pm – 10am, Sat: 7pm – 10am, Sun: 10pm – 4am
Head up to the 40th floor of the Heron Tower in the fastest lift in London; with five bars and two restaurants spread over these two floors it's a whole playground of 24 hour fun to be had. The bar is unique in its layout; turned inside out it looks like an up market buffet. The cocktail menu is short but sweet: four signature cocktails that are classics with a twist. Being a 24 hour bar the food is just what we wanted – the fois gras all day breakfast, BBQ spiced pig ears and the mutton tartare were welcome additions to our night on the town.
Heron Tower, 110 Bishopsgate, London, EC2N 4AY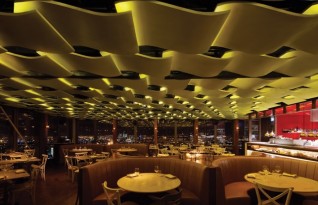 Shake it baby, shake it. This is an all American diner, massive on milkshakes and big on burgers.
42 – 44 St John Street, London, EC1M 4DF // Mon – Thurs: 12pm – 5am, Fri – Sat: 12pm – 4am, Sun: 12pm –  3am 
Proper greasy spoon. If you're passing through Liverpool Street and are in need of a BIG fry up, tea, coffee, or bottled beer at a cheap price, then you will be in heaven here.
176 Bishopsgate, London EC2M 4NQ // 24hr
One of BarChick's favourites. A wicked choice of music, with outside terraces, a cafe, smoking areas, cash points, cigarette machines, serious speakers, lasers, etc. You want Ibiza? Well this is as close as you'll get in this part of town. Head to the Egg for breakfast on a Sunday morning,   open 4am – 11am… It's not cheap, but what price would you put on a good party at 8am?
200 York Way, London, N7 9AX // Fri: 10pm – 8am, Sat: 10pm – 11am, Sun: Last admission 6am.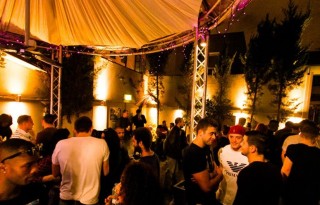 The Hope and Sir Loin
Kick off is at 6am for anyone who's had a big night and fancies a huge breakfast and some pub atmosphere… the full English includes the usual egg, sausage and bacon along with liver, kidney and sirloin steak.
94 Cowcross Street, The City, London, EC1M 6BH // Mon – Fri: bar open 6am – 11pm, restaurant open 7am – 2pm
0203 474 0305 - Save this number now. No house party is safe without it. These guys deliver booze and fags until 8am on weekends and 6am on weekdays. A useful friend to have.
Sun – Thurs: 6pm – 8am, Fri – Sat: 6pm – 8am
Turkish food, Turkish prices. We are sure there will be a time when you need this.
9 Stoke Newington Road, London, N16 8NH - Open from 12 noon till 5am
Funktion 1 sound system, yes please.  Increased capacity and 24 hour licence, decent drinks and great DJ Lineups; these guys don't p*ss about. (Go to The Loft in Clapham for free entry wristbands).
418 Brixton Road, London, SW9 7AY // Fri – Sat: 9pm – 6am