If you consider yourself a bit of a globetrotter/international playboy/jetsetter (or you spent your gap yah blowing your trust fund), then here are some of BarChick's favourite bars in the world. Some are weird, some are wonderful and all of them unmissable, get out there.
MODERN TOILET – TAIPEI, TAIWAN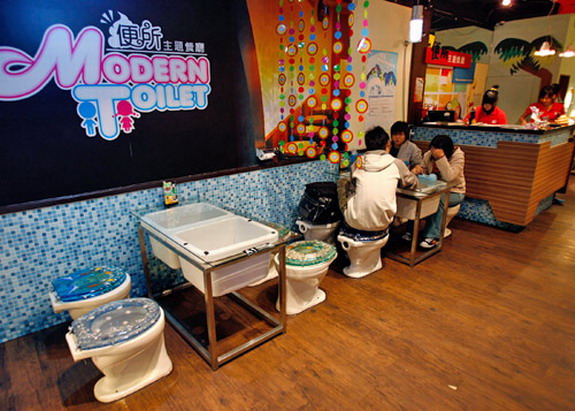 This is perfect for those of you who love a bit of potty humour.. literally. Modern Toilet is a pretty odd concept, designed around all things bathroom related tuck into meals served in mini toilets and drink cocktails out of small urinals (yes you can take them home as a souvenir). The tables are baths with glass tops, the seat are, you guessed it, toilets and they round up the meal with swirled chocolate ice cream served in plates shaped like a small squat loo. Beef stew and other delights definitely lose their appeal when dished up looking like some sort of illness but hey, it's different right?!
2F, 50-7 Xining South Road, Taipei, Taiwan
THE PENGUIN NO IRU BAR – TOKYO, JAPAN
Japan god damn LOVE penguins so if you are the same then definitely head to "Penguin no Iru Bar" (translated to the not so exciting "The Bar Where There Are Penguins"). Although, then again this isn't the first penguin bar to be opened, they have at least 3… yes, it's quite an obsession over there. This is a place of relaxation where you can get comforted by the little fellas; you might even get a chance to feed them if you get there at the right time. People sometimes hold their wedding parties there because penguin couples are known to be extremely loyal… we feel sorry for them being paraded in their little glass home but then again it's better than being eaten by sea lions.
2-38-2 Cosmy 1, 1st floor, Ikebukuro,  Tokyo, Japan 
(Sadly this place has shut down, but we just can't bring ourselves to delete it! RIP Jimbo's)
This is one of those places where you turn up and never want to leave. It's a bit out of the way, but that's the beauty of it – get here, chill out and have a good time away from the madness of Miami! (Flipper fans, you'll love it, this is where it was filmed). It's a daytime thang so turn up early, meet the guys, grab a beer from the cooler, get some of their smoked fish 'n chilli sauce and get stuck in. Some of the guys might be watching Back to the Future or playing Bocci (Italian Pétanque), but otherwise you can have a swim or go get down with whatever weird sh*t is happening in the old school bus. Just have fun, until they close (when the last person leaves)!
Duck Pond Road, Virginia Key, Miami, FL 33149, USA
THE BUREAU – COPENHAGEN, DENMARK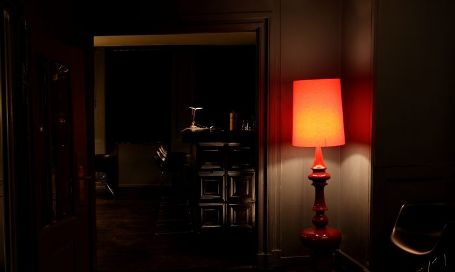 It's hard to find and harder to get into… but the best things in life aren't always easy. You'll have to work your way into The Union Bar first, but don't act like you're trying to get into a stuck-up West London bar: BarChick was told to say she knew the c*nt from Birmingham, which seemed to work. That person is in fact the owner Paul, and if you manage to get on the right side of him, only then will you make it to The Bureau but it's worth it. The barmen are some of the coolest you'll come across, the little bar is dimly lit and intimate, the drinks are perfection and the music is rocking… it's good, in fact bars don't get much better than this.
Store Strandstræde 16, Copenhagen, 1255, Denmark – Look for the black door and ring the golden bell. Nearest metro stop is Kgs. Nytorv.
CAVE BAR – PETRA, JORDAN
Photo credit: Jazz Say
The ancient city of Petra is carved out of rock and houses one of the most original bars that we've ever come across. This is for all you Indiana Jones fans out there, bring your rope and candles and get your adventure on. The Cave Bar is a 2000 year old Nabataean  (Ancient settlers) tomb that someone has converted into a pretty neat pub slash bar.  This is nowhere near your average boozer and you pay the $$$ for the pleasure of drinking in somewhere with so much history. Go for one of their signature cocktails called Between the Caves which is  punchy mix of rum, blue carousel, Triple sec and brandy. It'll set you up nicely for a hike around the city!
Cave Bar – Petra, Wadi Musa, Jordan
THE WILLY T – NORMAN ISLAND, BRITISH VIRGIN ISLANDS
The British Virgin Islands are the perfect setting for the wild times that go down on this floating bar and restaurant. Once lunch is over it's party time, and man you're gonna have a party! Expect body shots, which involve whipped cream, cherries, Baileys and being handcuffed to the bar. Plus if the girls get naked (those Yankee chicks love that sh*t) then you get a free thong, and they'll even issue temporary skull and cross bone tattoos to girls tits, naturally. They used to encourage the men, but now the ladies to jump off the top deck naked for a free t-shirt, and even though you can't jump anymore, the naked thing has stuck. Expect pumping music, awesome Caribbean rum, ski shots (4 shots in a row on a jet ski)… it's always on at The Willy T!
The Bight Bay, Norman Island, British Virgin Islands
HOBBIT HOUSE – MANILA, PHILIPPINES
This Lord of the Rings themed bar has taken the concept very seriously and only employs midgets to work here – nice! There's a huge mural of the lead characters outside and paintings of scenes from the novel indoors. Once you step in through their huge circular door, a bell will ring to announce you and your little waiter will take you into the dim, candle-lit room. They have a huge selection of imported beer and live music, but the main reason that people love this place is the awesome staff… and for any guys with LMS (little man syndrome), it's a dream come true! Oh and the valet had bricks tied to his feet to reach the peddles, plus they have mini urinals. Classy.
Arquiza Trade Center, 1212 Marcelo H. del Pilar, Manila 1000, Philippines
Some of BarChick's favourite bars are the high ones and if you're going to get high, you might as well get as high as you can…correct? That was Keith Richards' thinking. Perched on the 63rd floor of The Dome at State tower, this is one of the highest open air bars in the world and the view is stunning! It's actually quite a small, intimate space around the bar so you won't feel like you've cashed in on a touristy, ant farm experience. Come here early and stick around to watch the city come alive at night – you won't regret it.
The Dome at Lebua, Silom Road, Bangrak, Bangkok, 10500, Thailand
THE CLERMONT LOUNGE – ATLANTA, USA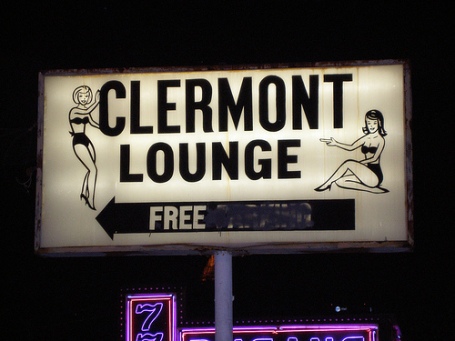 This is legendary in Atlanta – it's the first and longest running strip club in the city, but they do things a little bit differently in here. Any list like this one wouldn't be complete without a strip club. But if thats brought up images of hot naked dancing girls in your mind, then think again. The strippers here are a bit… erm… alternative? Some are over 60, some are overweight others are covered in tattoos, they choose their own songs to dance to and Blondie crushes beer cans with her tits! Everyone who comes here loves it though, the drinks are cheap and the party keeps rocking until late into the night as the booze takes over. Yes please.
789 Ponce De Leon Ave NE, Atlanta, GA 30306, USA
THE ROCK RESTAURANT – ZANZIBAR, TANZANIA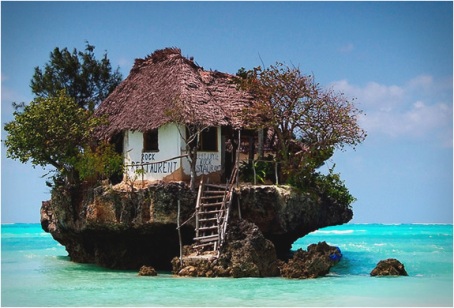 This seafood restaurant is built on a rock out in the sea, off the coast of Zanzibar. In really low tide you can walk to it but if the tide is up you might have to get a boat, although BarChick says earn that 'n swim it! Come for a drink but stick around for the food – it's amazing and as fresh as you can get, straight out that water. It only seats 14 inside, so it's never too crowded. It's pretty much perfection, as long as you have a boat to get back to shore on.
Michamvi Pingwe Village, Zanzibar, Tanzania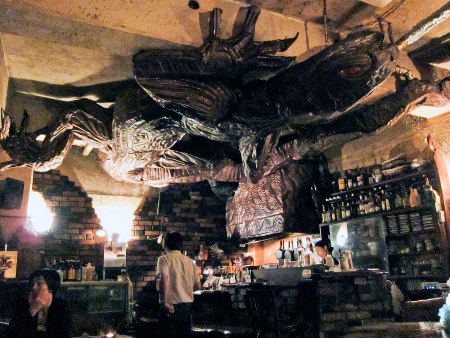 Hidden away in a little basement down an alleyway in Tokyo, you'll find one of the most unusual bars in the city. The first thing you'll notice is the huge stuffed lizard crawling up the ceiling – the whole place is like some sort of Aztec shrine, with amazing glass table lights and toilets that look like a Mayan tomb! The staff are chilled, they make some great drinks and also have a good selection of beers – it's the kind of small, quirky place where you'll end up staying all night just staring around at the room. They also do small, late-night bites if you get peckish.
NF Building, B1F, 2-2-7 Kitazawa, Setagaya-ku, Tokyo, 155-0033, Japan