Sometimes, as much as we love them, flawless food and amazing cocktails just don't cut it. BarChick must have an excuse to go out nightly, so she needs people to bring more tricks out of the bag to keep her interested. Check out the bars in London that we feel offer that little bit extra. Like a friend with benefits…there's nothing wrong with it at all.
This preppy East Coast American beach club style bar is in the heart of Covent Garden. It serves seriously tasty pizza by the slice, classic American cocktails and has Hampton's beach party vibes throughout its wood panelled space. What we love best about it is that the bar is fitted with a retractable cocktail menu that descends from the ceiling, and booths are hidden down secret passages. But hold up, what really got us flirting is each table is fitted with their own hamburger phone which you can use to call the table next to you! Team that with your beer from a vintage gas pump style tap and you've got some real fun right here.
33 Earlham Street, Seven Dials, London, WC2H 9LD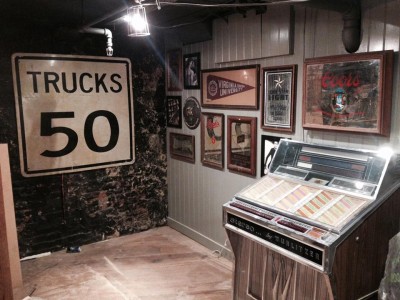 If you're a sucker for sweets then get your fix at Volupté in their new sweet shoppe-cum-speakeasy: The Bon Bon Bar! Enjoy a dose of Burlesque along with a glassful of sugar while you indulge in the pick 'n' mix sweetie jars with your flamboyant cocktail. Creations include the electric blue 'Candy Cane' – made from koko Kanu, blue curaçao, lichi li liqueur and gin, served with a striped candy cane – and 'Liquorice Lady' – made from black sambuca and vodka, garnished with a liquorice lace. Yummy!
9 Norwich Street, London, EC4A 1EJ
This friend offers anything and everything. If it were human, it would probably be one of those extracurricular mates who makes you feel bad about yourself, but in bar terms we love it. Yoga on Mondays, swing dancing on Wednesdays (don't worry if you're without a date, these guys switch partners – true swingers), open mic on Thursdays and people kitchen on Sundays. That's not to mention the random film screenings or the jam and jazz sessions. Spoilt rotten.
1 Richmond Rd, London, E8 4AA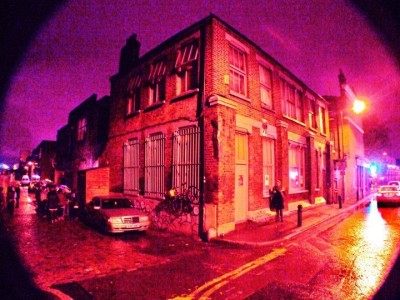 Fox and Pheasant
When your favourite pair of heels are starting to break, and life's a little lopsided, getting round to fixing them is always a bit of a chore. But at the Fox and Pheasant you can enjoy a pint and drop your shoes off all in one go – two birds, one stone. But don't expect them back straight away; these guys take three days, so remember your spare pair.
1 Billing Road, Chelsea, London SW10 9UJ
A night out needs good tunes, so BarChick loves Duck Soup's policy of "Bring Your Own Vinyl", forget bring your own booze, this rule can really make things interesting. Anything goes: from blues, rock and dance, to classical and soul or maybe even some Disney for those who care to get involved. Get out your guilty pleasures and enjoy your meal.
41 Dean Street, London W1D 4PY
For starters, the fact that this is hidden in a block of flats keeps out some of the riff raff. Entering a small doorway covered head to toe in Mickey Mouse paper makes you feel like a child again… until the doorman slides open the peep hole to see if you're worthy of being let in. Get in there, grab a drink and dive into the dressing up box. Batman outfit anyone? How about BarChick's favourite the leather lederhosen? Let's face it, who doesn't like a bit of fancy dress?
Chelsea Cloisters, London, SW3 3DW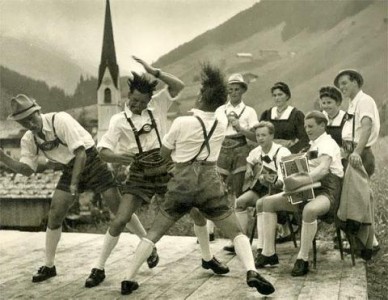 OK this one's a little obvious, but bowling and drinking go hand in hand. Plus, BarChick usually finds drinking actually helps her aim. Take a big group, embrace the 50′s style diner, and hit that massive Bourbon list. Proper night out for all the family.
Victoria House, Bloomsbury Place, London, WC1B 4DA
Tequila teamed up with table football gets two thumbs up with BarChick. Everyone can play, anyone can drink tequila, no excuses.
80 Wardour Street, Soho, London, W1F OTF
Fan of the theatre but couldn't get tickets to Mamma Mia? Then this is the place for you. When your cocktails arrive your waitress breaks into "I need a hero", throwing lyrics back and forth with a fellow colleague. Thought she was a bit cocky when you were ordering? Now it's all becoming clear, these are no ordinary bartenders. This place is only a benefit if you like music, if not steer clear!
3-4 Archer Street, Soho, London, W1D 7AP
Clue is in the title. This one is for you boys, with pub prices, The Premiership and p*ssy? Hell yeah…sip beer whilst watching dancing topless chicks. Beats the local, right?
30 Dean St, London, W1D 3SA
Can't afford the ski trip this year? Not a problem. Head to Regent Street, and enter the freezer styled igloo bar for a quick drink. When teamed with a huge fur-hooded padded poncho and gloves so thick you can hold a glass made of ice without flinching, it makes it a hilarious change to your average pint, and to be honest it's pretty cool (no pun intended).
ICEHOTEL LONDON, 31 Heddon Street, London, W1B 4BN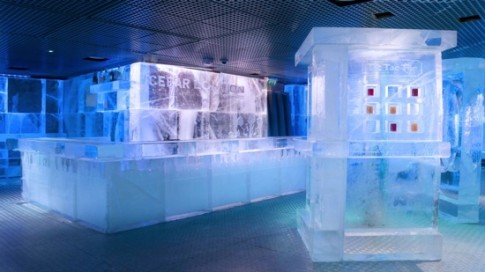 Karaoke: you might love it or you might hate it, but here they have leather seats, a disco ball and an added booze button. Yes, a booze button. So clear your vocal chords, get singing and when you get a bit of a dry throat don't hesitate to press that button for your next alcoholic liquid boost of confidence.
19 Kilburn Lane, Kensal Green, London, W10 4AE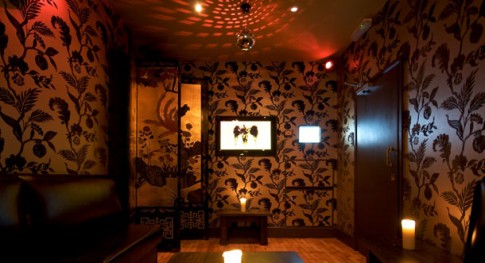 If you're not really into all things French, you may not have heard of Pétanque before… but think bowls on gravel (you chuck 'em rather than roll 'em) and you're pretty much there. Grab some mates and book yourselves in – then you also get the booth at the back of the court to chill out in with some drinks. It's a French bar, so grab some food (it's delicious) and get stuck in with their awesome cocktails… any game that's good for old people still works when you're drinking!
115 Chancery Lane, London, WC2A 1PP