When the sun's out, all us Brits wanna do is drink (good job we don't live in California otherwise we'd be in serious trouble). But when it happens so rarely, you've gotta act fast, so wherever you happen to be in London, here are your nearest and dearest garden watering holes.
PS. If it's roof terraces you are after then check this lot out!
SOUTH
The Lost Angel garden may not be the biggest but they've definitely worked with the space they've got. With lots of plants around the walls and vines tangled through the wooden shelter over half, sun burners this is the spot for you. With a load of high tables and stalls, a couple of sofas and sometimes a bar outside this is the perfect place for food and drink in the sun.
339 Battersea Park Road, London, SW11 4LS
Riverside Terrace Café, Southbank
This perfectly situated and surprisingly spacious hangout does exactly what it says on the tin – it's a riverside cafe with a terrace. Well, one that serves booze. Winner. With pretty incredible views of London's iconic buildings, big jugs of Pimm's on offer and seasonal food served from 10 am till close – it's the perfect riverside hangout.
Royal Festival Hall, Belvedere Road, London, SE1 8XX
The Avalon's back garden is actually garden-like, so it's more than just some outside spot for a piss-up. With flowers, greenery, umbrellas, tables and chairs it's the kind of place you actually want to hang in. Tuck into their full menu or grab a burger from the BBQ and if it gets cold (this is London) snuggle up by a heater with a blanket. Perfect.
16 Balham Hill,  London, SW12 9EB
Sure, this is a chain pub but the Grand Union in Brixton has a huge outside area that is sure to be used and abused this summer. With four Thai-style tree houses, an enormous 25sqm outdoor film screen and huge wooden tables, there's space for everyone. Tuck into their tasty food menu and get the beers in. These guys take summer sessions seriously.
123 Acre Lane, Brixton, London SW2 5UA
The Founders Arms - Bankside
Another outdoor space looking over the Thames makes this a popular choice for the sun lovers in London. Next to the Tate Modern this is a great place to sit down with some wine and food on the large patio and look over St Paul's Cathedral and the boats sailing by on a summers evening. If it gets a little cold out they've got some blankets and heaters for you too. Life savers.
52 Hopton Street, Bankside, London SE1 9JH
One of Brixton's best kept little secrets that we're going to let you in on… get your drink of choice from the bar and head out the back of the pub. Don't be put off by the slightly damp and dark alleyway because when you emerge the other end boy you're in for a treat. Their garden is enormous and on a good day is usually full to the brim with boozers and hay bales! They have a big screen showing any big events (catch them on a good day and they'll be dishing out great grub from the BBQ).
204 Ferndale Road, London, Sw9 8AG
Secret Garden Party comes to Battersea. The clue is in the title, this place is all about the outside area with serious festival vibes, mismatching quirky sofas, board games and oversized lamps. Drinking in a beer garden has never been quite so fun.
231 Battersea Park Road, London, SW11 4LG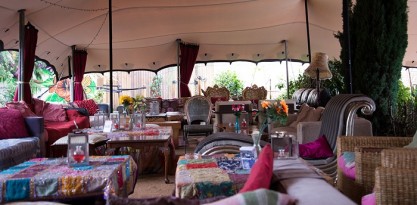 WEST
The Jam Tree boasts a damn good garden hidden behind the pub off the New Kings Road. With a capacity for 200, it's the perfect sun trap and a great place to chill (except when Chelsea are playing around the corner). It's got its own dedicated bar that mixes up some decent cocktails and pulls good pints, plus they have a BBQ dishing out hog roasts and meat and fish cooked over charcoal. Sold.
541 King's Road,  London, SW6 2EB
The Union Tavern, Notting Hill
If you're keen on your craft beers, then this is the spot for you. They do regular tasting sessions with beers both local and further afield. But it gets better; you can take them outside and enjoy them in the canalside beer garden. Sit back and relax as boats and cyclists chug on by.
45 Woodfield Road, London, W9 2BA
Ok so this might not be described as a garden as such – but does a garden have to have grass and trees? As long as it has booze it qualifies in our book. Outside The Westbourne (provided it's not pouring with rain), the terrace is a bit of an institute for those that play west. It's brimming with tables and hotties, the bar is overflowing with booze and the pub sends out some damn fine food. Our kinda hang out.
101 Westbourne Park Villas, London, W2 5ED
Tangerine Dream Café – The Chelsea Physic Gardens
If you're looking to take a load of trashed mates to a beer garden, then look away now because this is NOT the place for you. If however, you're on a date or with your mother, then read on. The Physic Gardens are a pocket of beauty and intrigue, and inside there is a perfect little café that will ply you with wine, beer and cakes if you so wish. Only downside is the £9 entry fee into the gardens, but if you're a culture vulture it's more than worth it.
66 Royal Hospital Road, London, SW3 4HS
This is a great spot for some outdoor action. The garden is large and inviting, so take friends and get stuck in. Tuck into a rotisserie chicken from the Garden Bar and Grill, they won't disappoint, or order some Mediterranean style food. Drink wine, beer, spirits or Champagne and set the world to rights.
41 Bramley Road, London, W10 6SZ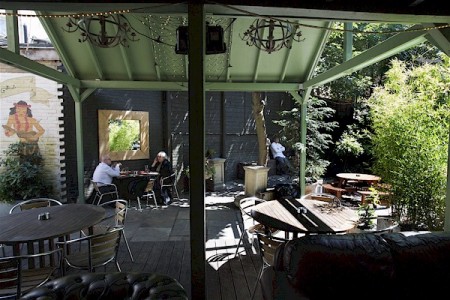 It's a pretty charming pub, less lads who football, more ladies who lunch with its whitewashed walls, cocktail bar, sweet mismatched furniture, coloured glasses and flowers on the tables. The garden outback is perfect to long out a lunch, and if the sun's shining we guarantee you won't want to leave.
227 King Street, London, W6 9JT
Big pub and a big beer garden complete with lots of places to hide away with a lover, an outdoor BBQ and riverside views. What's not to love? The ultimate Sunday destination, BarChick likes to tuck into a burger, grab a bottle of rose, climb over the wall down to the pebble beach and watch the rowers do their thang on the river.
Rainville Road  London, London, W6 9HA
As seen on 'Bafta award winning' Made in Chelsea… apparently this is one of the best bar terraces about: stylish garden furniture, swinging chairs and comfy pillows surrounded by a whole lot of plants. PLUS these guys have frozen Daiquiris, we love a slush puppy party
9 Phene Street, London, SW3 5NY
This is one of the best gardens in London. With a large grass area, pillows, space for picnic blankets, swing chairs and a terrace with a great BBQ and outdoor bar complete with a Tuck Shop – you can count us right in! You can't hire the whole thing but you can reserve sections, so make sure you do cos this place is gonna get rammed on any sunny day.
215 Askew Road, London, W12 9AZ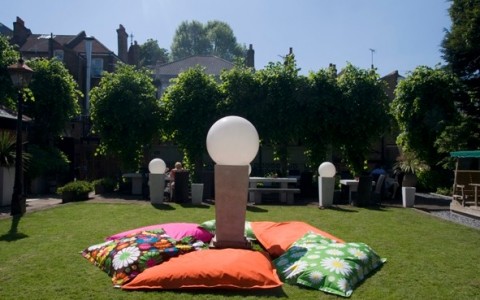 EAST
As far as pubs go around here this little east end number has got the best garden of them all. The decking and picnic tables give it holiday vibes whilst the parked up food truck serves garlic prawns and ribs to make even the best street market jealous. They're big on their beers, have meantime on tap and despite its edge-of-the-city location, the crowd is as far from city slickers as you might hope.
226 Shoreditch High Street, London, E1 6JE
Greenwich, with its awesome park and Thames side location is where you want to be when the sun is shining. Where better to sit back with some beers than The Gypsy Moth's beer garden? This traditional pub is all about British summertime with its overspill of outside tables plonked right next to The Cutty Sark. The food here has gone all 'gastro', there's a damn fine beer selection and there's huge heaters and a covered conservatory 'just in case'… this is Britain after all.
60 Greenwich Church Street, London, SE10 9BL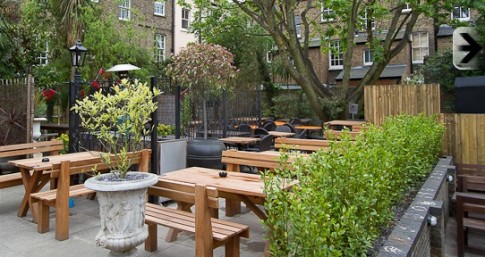 A garden that is on a park will always work: if the seating's full take things over the small wall onto London Fields and you're laughing. Head there when they have one of their summer BBQs, this place is always buzzing. They show all the football, they have ping pong in the basement. and they do a mean BBQ which you can wash down with a pitcher. Sold.
19 Martello Street, Dalston, London E8 3PE
This pub is massive and has a huge outdoor area to match. With lots of different sections divided into smoking and non-smoking (non-smoking is an outdoor garage type area). The big terrace court yard garden is for smokers and non-smokers alike, but you better reserve a table cos this place is always full. Cocktails aren't their thing here but they do Pimms so why complain?
9-11 Folgate Street, Spitalfields, London, E1 6BX
This is the Gun's entirely alfresco bar and restaurant overlooking the Thames and the O2. It's the perfect spot to soak up the summer sunshine (what sunshine?) but seriously when it is sunny hit this place up. Hit the beer and wine and try something delicious from their open charcoal BBQ. Opening times depend on the weather (probs means it will be mostly closed!) – check their Twitter page on the day.
27 Coldharbour, London, E14 9NS
CENTRAL
The Tattershall Castle, Embankment
Technically it's not a beer garden, it's a boat, but it's got an outside deck and beer so it's in. Built in 1934, its days as a passenger ferry have now given way to plying revellers with booze while rocking on the water. All aboard… P.S you can even party till 3am in their disco, just be careful you don't go overboard while crossing the gangplank.
Hidden away in the busy streets of Soho is a whole courtyard at one of BarChick's favourite gay bars, The Yard. There's an al fresco bar in the year-round heated courtyard and another up on the balcony 'loft area', plenty of seating and if you're a planner you can book an area ahead to make sure you get a good spot. There are also leather sofas and slightly bizarre statues, but hey it's an outside space in SOHO, so if there's sunshine and booze what more could you really want?
Tom's Terrace Somerset House – The Strand
During the summer months Somerset House opens up Tom's Terrace for some serious summer loving. Michelin starred chef Tom Aiken offers Champagne, great cocktails, sharing boards and nibbles. The 18th century terrace has banging views of a post card perfect London: the Thames, London Eye and Houses of Parliament… sweet.
Somerset House, Strand, London, WC2R 1LA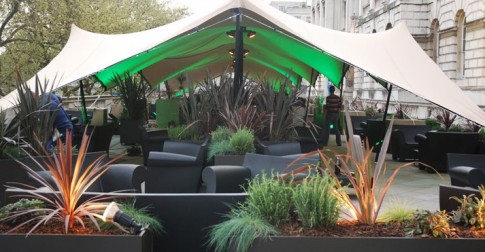 NORTH
This great pub offers table service for both drinkers and diners, so you can sit and relax without having to queue at a crowded bar. If the sun is shining head outside to the terrace and bring a gang because there's room for 280 to sit, nice.  Table service applies outside too, so you can bask in the sun without playing fives to go and get the next round in. Well behaved dogs and children both welcome.
If you're somewhere between browsing Camden's markets and strolling around Regent's Park, this is just the garden to stop in. With space for 300, if the sun's out come and get involved. Ales, lagers, beers, ciders, wine plus BBQs and hog roasts, make for the perfect afternoon. If the weather turns, duck under cover or take over a heater there's no need to head indoors here, good work team.
Good pub that's got it all from fruit machines and dart boards to a gig venue in the Cellar Bar below. The beer garden is up there with the best of them (it's won awards). Aside from being a brilliant sun trap (if it's out) it overlooks Regent's Canal, so it's a great place to while an afternoon away. Hit the BBQ, hit the beer and kick back.
The Faltering Fallback – Finsbury Park
With the summer coming everyone loves a good beer garden, and this place has one of the best in town. With only a small yard to work with, the guys here got clever with some decking and built a sort of multi-level terrace… like a car park for beer drinkers/high-rise beer garden! They've got a decent range of beers to enjoy while you get food and negotiate the decking and the stairs.
19 Perth Road, Finsbury Park, London, N4 3HB
This is another favourite with the drinkers in London. With a covered dining area you can keep dry when the British summer decides to rain on our parade. They also have an outdoor bar so there's no need to head inside to queue for the next round… they've thought of everything!
14 South End Road, London NW3 2QE
This garden is perfect for groups, with 8 private cabanas and a whole lot of old school picnic tables. Get some drinks, you won't be leaving for a while, especially if you head down on a day when they have their acoustic sets or garden parties. Go for a BBQ, wicked beers and outside table service. Hit Hampstead Heath before or after, and if you need to cool down go swim with the lesbians, gays or hit the mixed ponds.
67 Fleet Road, London, NW3 2QU
Weeping Willows and Wisteria hang above and all around you in this huge picturesque patio at The Albion. If you want more of a relaxed, and beautiful setting without huge loud groups this is where to hang.
10 Thornhill Road, London, N1 1HW