With a city like London at your fingertips, picking a party location is never going to be easy. BarChick's been to enough, and here are the best venues to get your party freak on… and if you can't find what you're looking for below get in touch!
0-50 PEOPLE
A multi-functional, three-storey Victorian town house with a ton of private hire rooms to choose from:
Parlour
People: 12 seated or 30 standing
Apothecary & Fainting Room
People: 30
Attic
People: 32 seated or 60 standing
Apothecary Bar
People: 40
181 Upper St, London N1 1RQ
The Attic
Draw the heavy velvet curtain around your table for 10 to make another private area within this chic parlour, or leave it open and entertain all 40 of your guests while standing.
People: 40 Cost: £1200 minimum spend
The Academy
Hello house-party vibes! The bar is a huge table within an open plan kitchen and drinks are served from cabinets.
People: 35 Cost: £1200 minimum spend
The Jade Door, 15-16 Gerrard Street, China Town, W1D 6JE
Head down to the Baja Room beneath El Camion (sometimes called Dicks Bar) and party like you've never danced before. Tequila is served in abundance and the vibe is seriously loco. You won't have a private room but the booths here are pretty big and you'll easily squeeze your mates in. All they ask is that you all order food, done.
People: 25 Cost: No minimum spend but guests must order food
25-27 Brewer Street, Soho, London, W1F 0RR
Romantically near to Hyde Park this is the ultimate venue for those who prefer to stay this side of town. Full of character there's the option to hire The Scullery or the entire venue (Sunday, Monday, Tuesday). Serving hot dogs, craft beers and cocktails in what used to be the servant's quarters for the pub above your party will look like a peasants knees-up in no time.
The Scullery
People: 25 Cost: No room hire, no minimum spend
Whole Venue (Sunday, Monday, Tuesday)
People: 40 Cost: No room hire, no minimum spend
24 Craven Terrace, Lancaster Gate, London, W2 3QH // +44 20 7262 5240
This place is all distressed interior , open fireplaces and dripping candles…they've hosted Darcey Bussell's birthday party so we're pretty sure they can handle your shindig. There are three private rooms altogether; two are linked by open arches – The Banqueting Room & The Inner Grand Room. They can be hired separately or together for canapés or a sit down meal. The Portobello Room is also available for hire.
People: 28 sitting or 40 standing each – can be combined Cost: Minimum spend £1000
186 Portobello Road, London, W11 1LA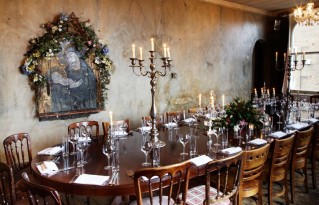 The Upstairs Bar at Callooh Callay
Often referred to as the Pop-up Bar this intimate venue changes every 6 weeks, make it your own for the night and let your guests go wild in this Alice in Wonderland style bar. The Back Lounge behind the wardrobe is also available for hire either separately or combined. Drinks can be arranged for reception and menus can be customized and drinks renamed to your taste. Canapes and bowl food are on hand for the peckish and all they ask for in return is a 30% deposit.
The Upstairs Bar
People: 25/30 Cost: £800 minimum spend
The Back Lounge
People: 50/60 Cost: £1800 minimum spend
Both:
People: 85 Cost: £3000 minimum spend
65 Rivington Street, Shoreditch, London EC2A 3AY
Bar area
This place is popular and for good reason. You won't be able to book out a private room or area but tell your crew to come a early and you can grab a table or two and be the first ones throwing wild moves on the dance floor.
People: 0-20 Cost: Nothing for the venue, just buy lots of drinks
49 Ridley Road, Dalston, London, E8 2NP
The Garden Dining Room
A hog roast on Saturdays and a large walled garden for smokers; perfect if you work in the city. This place gets busy so if you're short on friends, you can pretend you've got more.
People: 40-45 for drinks Cost: £150 deposit that you get back when you arrive
The Barn
Your own bar and barmen in your own private barn just off the main terrace, swag.
People: 50 Cost: £250 and £500 minimum spend
9-11 Folgate Street, London, E1 6BX
Top Floor Bar
Killer views of the Thames and the London skyline, plus an interior that gives the impression you're on a boat. Canapés can be ordered in advance or you can just drink and enjoy the view.
People: 25 (not totally private area) Cost: £30 – £70 minimum spend per person
Or hire out the bar for a cocktail party for max 65 people. Cost: £4,000 – £6,000
Barge House Street, South Bank, London, SE1 9PH
Paradise
Reading Room
This room has glass doors dividing you from the bar and the rest of the world. It's private enough to not let any gatecrashers in and clear enough for everyone to see how much fun you're having. Plus you can invite any hotties to join you.
People: 20/25 Cost: £300 minimum spend
Private Dining Room
People: 50 Max Cost: Minimum spend £1000 and your own private access to the (public) terrace.
Music Room
Although this room opens to the public from 8pm onwards (share the love), if you want to have your own private warm-up it's all yours.
19 Kilburn Lane, Kensal Green, London W10 4AE
Whilst you can't rent out the Mahogany Bar itself, there is the Green Room or smaller dining room available to hire. Drinks will have to be ordered from the bar or get organised and set up a table of pre-paid- booze for everyone to help themselves to.
People: 30-50 Cost: No cost, just get yourself a bar tab
1 Graces Alley, London, E1 8JB
Everyone loves a good party at The Shop and luckily these guys love throwing them. There's the option to rent the back half or really spread your wings and occupy the whole bar. They always play great music and everything in it's for sale so you'll undoubtedly be leaving with more presents than you thought.
People: They say 25 max (although we have definitely partied there with more) Cost: Min bar spend depending on the day and how many people
75 Chamberlayne Rd, London, NW10 3ND
50-100 PEOPLE
The Second Floor, Third Floor or whole venue
Take over a floor or the whole venue for a party for a really special night out and enjoy the unique space, different rooms and chic design that Opium has to offer. A Chinatown hideaway that will delight and surprise even the most hard – to please crowd!
Floor
People: 70 per Cost: £5000-6000 minimum spend
Whole venue
People 140 Cost: £6000 – £10,000 minimum spend
The Jade Door, 15-16 Gerrard Street, China Town, W1D 6JE // +44 207 734 7276
Fancy a bit of tiki-tastic-ness? Your guest will love this place. They don't have a private hire section but they'll occasionally let you have the whole place if you ask nicely. Drinks by the best in the business and the kind of food you can eat on your feet. Get cheaper rates on weekdays.
People: 90 Cost: £2000 – £6,500 minimum spend
177 Portobello Rd, London W11 2DY
Located above one of Mayfair's favourite restaurants, The Emin Room is full of art by Tracey Emin and is the perfect place for those looking for an up-market, cultural sort of soirée. Go for canapés or a sit down meal here.
People: 60-80 Cost: £1500 – £5000 minimum spend
34 Grosvenor Square (entrance on South Audley Street), London, W1K 2HD
1st Floor/ 2nd Floor
This place is not as 'East London rad' as its location might suggest. Rent either the 1st or 2nd floor, both have access to the wicked roof top, so you can get your Vitamin D fix. 1st floor has a DJ booth and bottled beer at the bar, anything more complicated and you'll have to head down to the ground floor. The 2nd floor has its very own sound system and is one step closer to the roof terrace!
People: 70 Cost: No cost for hiring the room just a minimum bar spend
Hoxton Hall, 130 Hoxton Street, London, N1 6SH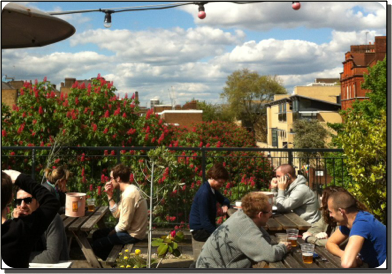 Basement
Downstairs space has a bar serving cocktails, a dance floor for the movers and shakers and sofas for the weary. The music is always good here and the atmosphere fun. Head upstairs for ping-pong and food, although with friends and cocktails you've got everything you need downstairs.
People: 60 maximum Cost: £100 with a £500 minimum spend
100-106 Leonard Street, London, EC2A 4XS
Basement area
Perfect for those with a penchant for chicken, ribs, slaw and mash. If you're looking for something private for 65 of your nearest and dearest then reserve the basement bar and find yourself hidden beneath the busy restaurant. Make use of your own bar and some decent seating, plus there's plenty of space in which to cram a DJ! Open til midnight unless you're happy to shell out £250 for an extra hour. Minimum spend ranges from £500 – £5,000 depending on the night. If your crew is pushing 30 then you can reserve an area free of charge but be prepared to share with the others who wander in.
People: 65 Cost: Minimum spend ranges from £500 – £5,000
34 King St Covent Garden, London WC2E 8JD
Private room
Everyone loves a ten-pin sesh and all three locations have a private room for your very own party. Each venue has 2 bowling lanes, a cocktail bar, a plasma screen (for Wii) and your own bar staff. They can arrange a bowling tournament and the winners will get prizes – brilliant for the competitive among us. Plus, if you're into fancy dress it's a great place for a 50′s theme.
People: Depending on which venue 30 – 130 Cost: Price may vary- get in touch!
Bayswater/ Holborn/ Brick Lane
Upstairs room
The private upstairs room is where you'll be; they serve killer cocktails for a fiver each and delicious pinxtos for the hungry. With charming staff it's one of BarChick's favourite hangouts in Brixton Market and exactly where we'd wanna party.
People: 90 Cost: No hire charge but a deposit will be taken
Unit 7, Market Row, London, SW9 8LB
100-200 PEOPLE
You're on a boat! No, seriously. Hire this Dutch barge moored permanently between Lambeth and Vauxhall Bridge for a swimmingly swell time aboard this floating pub. If you want a weekend slot for your birthday party you'll need be turning 25 or more.
People: 150 Cost: £195 + 80 people minimum
Tamesis, Albert Embankment, London, SE1 7TP
Music Hall
The Music Hall is home to House of Wolf's live stage, where you can expect to see all manner of high (and low) brow entertainment. Hire the space for your gathering and make use of the fun filled 'get-on-down' vibe.
People: 120 standing
181 Upper St, London N1 1RQ
'Downstairs' at Mestizo is available to those looking for an intimate atmosphere and their own bar. To be honest these guys had us at 'authentic Taco Stand' but they also have a full a la carte menu. Available every night and afternoon of the week (except Thursday night) prices change depending on time and days, give them a call!
People: 120 Cost: £800-£1,700 minimum spend
103 Hampstead Road, London NW1 3EL
Hire the entirety of this award-winning establishment complete with bartenders, shenanigans and an excellent vibe. Drinks can be arranged for reception and menus can be customized and drinks renamed to your taste. Canapes and bowl food are on hand for the peckish and all they ask for in return is a 30% deposit.
People: 120 Cost: £6000 minimum spend
65 Rivington Street, Shoreditch, London EC2A 3AY
Throw your party at this New Orleans style bar and you'll know you're in safe hands; these boys are the best in the business. Although they have smaller rooms available to hire we recommend going the whole hog and booking the venue in its entirety. Feel free to bring your own iPod and decorations.
People: 150 Cost: £1500 – £4,500
119 Hampstead Rd, London, NW1 3EE
This place has it all: dining, dancing and drinking! With over 800 musicians on their books, take your pick for live music for the night. The club is classic and cosy – there is a stage for the performers and tables and chairs can be cleared if you wanna get dancing.
People: 175 Cost: For daytime hire the price varies depending on number of people. Exclusive evening hire (Sun- Thurs): No charges for the room but minimum spend on food and drink £2550
90 Lots Road, London, SW10 0QD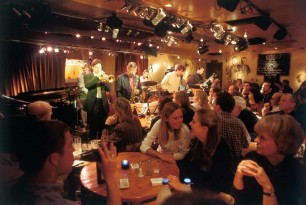 The theatrical décor is only an introduction to the weird and wonderful fantasy world that goes on downstairs. Burlesque and fire eaters are available to book and not much would look out of place in this imaginative bar. A late license til 5am means you can run wild. The owner also owns a fancy dress shop so get in touch for your outfits.
People: 100 Cost: £2,500
16 Little Portland Street, London, W1W 8BW
Basement bar
Rent out the rock 'n' roll style basement bar for banging cocktails while the Michelin star chef upstairs see's to the canapés.
People: 150 Cost: Minimum spend and price depends on the day of the week.
39 Whitfield Street, London, W1T 2SF
Whole venue
Hire this opium den of a venue for banging cocktails and a late license. Be decadent and debauched until 3am.
People: 150 Cost: Private hire £375 – 750 minimum spend for daytime hire (depending on day), £1125 – £6000 minimum spend for evening hire (depending on day)
5 Clipstone Street, London, W1W 6BB
Downstairs
A Mexican themed party is the only way to go here. With over 200 tequilas and sombreros galore, rent out downstairs and you'll get your own bar, taco shack and full a la carte menu. Depending on how much you want to spend there's a doorman and DJ for hire too.
People: 120 Cost: £1000 – £2000 depending on day of the week.
103 Hampstead Road, London, NW1 3EL
200+ PEOPLE
If you want to blow some serious cash and invite all your Facebook friends then check out these body rockers:
This place is beautiful – parties, weddings, barmtitzvah's you name it, they'll throw it. It's won't be cheap but what did you expect for a place this swank?
People: 500 Cost: Hire of venue £5000 and min spend on food and drink £20,000
99 Kensington High Street, London, W8 5SA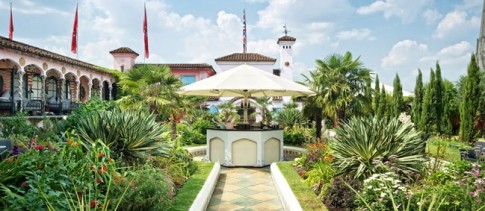 A converted church is the sort of venue that lends itself to pretty much any occasion. 'Dry hire' and choose your own suppliers or go all out and leave the One Events team to handle everything. Guest-gasp guarantee.
People: 600 Cost: £12,000
13A North Audley Street, London, W1
A BarChick bar through and through this word-of-mouth, ghetto fabulous juice and cocktails bar is perfect if you're looking for somewhere a little bit more rad to impress your guests. They don't have set rates, they'd rather chat-it-out face to face to make sure you're down with the vibe. Basically it'll either be a nice big bar spend or a room hire fee, depending how fun your guests are.
People: 213 Cost: Open to offers and good chat
88 Chatsworth Road, Hackney, London, E5 0LS