This major Mexican holiday is celebrated around the world, and despite all the skulls it's actually a happy time. El Dia de Los Muertos is a time to focus, pray and remember family and friends who have passed away. OK, Plus it's also a good chance to get stuck into killer Mexican food, tequila and mezcal. It's on November 1st but some people will be celebrating all week, get your skull mask on and get out there. Here is where we'll be hanging…
As usual Wahaca have loads of devilishly good ideas up their sleeve. November 1st will see make-up artists in all of their restaurants painting people's faces with traditional skull designs, and on both the 1st and 2nd of November they're handing out free shots of Olmeca Altos Tequila AND running a £5 Blood Orange Margarita special. There'll be some major decorations in all of their sites, and make sure you sign up for the (free!) skull decorating workshop at Wahaca in Charlotte Street hosted by Jose Cuervo and Lauren Baker, who Vogue gave the awesome title of 'Queen of the Skulls' to.
For places, please email josecuervo@nyloncommunications.com.  Workshops start at 10.30am on 1st and 2nd November.  Limited spaces available.
19 – 23 Charlotte Street London W1T 1RL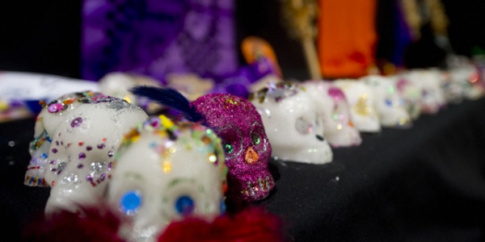 For two days only this Mexican joint will have you paying homage to more than just your ancestors with their macabre (and delicious) El Dia de Los Muertos cocktail menu. The Dead & Buried with fresh blackberries, strawberries, raspberries and tequila or the RIP with prosecco, hibiscus syrup and mint sound devilishly good. Order some carnitas tacos and chile en nogada, sit back and celebrate in style.
10 Upper St Martin's Lane, St Martin's Courtyard, London, WC2H 9FB
Always up for a bit of fun, the guys behind the bar at Artesian are serving their DOTD cocktail in a sweet little painted skull with rice flower eyes. Aqui Estoy (meaning 'here I am' in Spanish) is a boozy mix of Don Julio Blanco Tequila, mezcal, shisho, mint and lime. It's the chic way to pay homage to this holiday.
1C Portland Place, London, W1B 1JA
Battersea neighbourhood favourite Lost Angel is throwing a tequila-filled party with £5 El Jimador cocktails all night on Friday 1st. Make good use of their year-round garden and grab some killer steak at their Gaslight Grill dining room beforehand.
339 Battersea Park Road, London, SW11 4LS
Our friends up at Islington's Mestizo are throwing a Mole Festival, and they'll be serving up a special menu of 12 mole sauces along with their authentic Mexican eats and killer tequila selection. (Mole sauces can contain up to 40+ ingredients, and each state in Mexico has its own regional specialities). Along with all that mole, Mestizo has commissioned the creation of a special altar to display in the restaurant, so feel free to bring a photo of someone you'd like to remember.
103 Hampstead Road, London, NW1 3EL
Soho's two floor hangout has transformed their downstairs area into a Mexican street market slash nightmare scene, with walls covered in ponchos and sombreros, and killer Don Julio Tequila cocktails. Grab your favourite fruits from the wooden crates, brown bag them, and hand it over to the bartender who'll turn it into a fruity Margarita for you. Nice!
3-4 Archer Street, Soho, London, W1D 7AP
DAY OF THE DEAD BIKE RIDE
For something completely different don your best skeleton costume, or just throw on some festive brights and jump on your fixed speed to join in on the first annual bike ride for Dia de Los Muertos. You'll be handing out sugar skulls and paper flowers as you take a night bike ride through Hackney and East London. Meet at the Stamford Hill entrance to Abney Cemetery, N16 0LH at 7pm on Friday 1st November, send an email to sign up.
Abney Cemetery, Stoke Newington High St, London, N16 0LH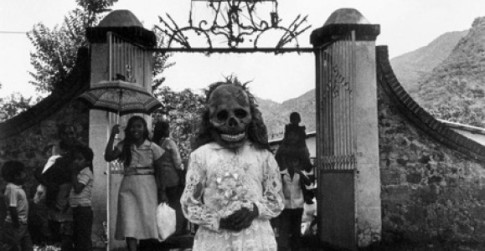 And if these aren't what you're after then it's not like London is short of Mexican bars, there are all sorts. Some with banging food, others with a bad ass tequila collection and some where you can stay all night with piñatas, shot trains and photo booths… yes! Check out London's Best Mexicans here and we'll see you in one of them with a shot in hand and a sombrero on head…yes Mexico.