Us Brits just love a good cuppa, and that love affair don't have to end after breakfast. In the world of cocktails, it appears that tea is the new black, popping up in all BarChick's favourite bars all over town. BarChick has been studying hard, and has learnt all about the wonders of tea, and what makes it work so well in a cocktail.
Tea adds a smoky bitterness to balance out a drink, and can also be used as a subtle flavoured way of lengthening a tall drink. Some bartenders infuse it into the base spirit, or brew and chill the tea and add it to the shaker, it works well each and every way.
This city is no longer just about the Earl Grey Tea-ni any more, BarChick did a tea-trawl around town, and these are our favourites:
LAPSANG SOUCHONG
Worship Street Whistling Shop's downstairs drinking den serves a cocktail that's so smoky you'll expect the firemen to show up. They wash a barrel with Lapsang Souchong tea for a few months to infuse the wood with the smoky tea flavours. Local Chase Marmalade Vodka is then steeped in the barrel for a few weeks, the resulting liquid is then served neat, with homemade lemonade on the side.
63 Worship Street, London, EC2A 2DU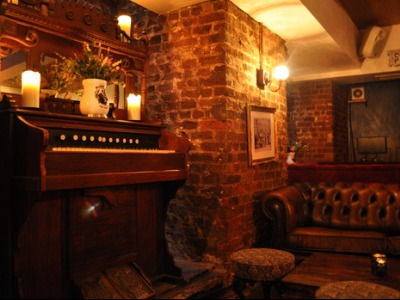 ROOIBOS
The industrial styled Caravan King's Cross serves two tea cocktails, the Rooibos and Agave Iced Tea is our favourite, all the delightful health benefits of Rooibos tea, shaken up with agave nectar, brewed iced tea, lemon and sugar. It's served on the rocks for a refreshing, cool antioxidant punch! Perfect for summer days on their lovely patio.
Granary Building, 1 Granary Square, London, N1C 4AA
EARL GREY
Bar 45 lets the glass teapots of tea infused liquors take centre stage, which if good enough for Brangelina, is good enough for us. Try the Tanqueray 10 infused with Earl Grey, vodka with mango tea, and Scotch whisky with super smoky Lapsang Souchong tea. Something for everyone.
45 Park Lane, Mayfair, London W1K1PN
GREEN TEA
Arachnophobics beware – the Tea Punch on the menu at Artesian Bar is made from Scorpion infused cognac, with Velvet Falernum, Poire William and Sencha Tea… bugger the creepy crawlies, it's amazing.
The Langham Hotel, 1C Portland Place, London W1B 1JA
At Nightjar, the award winning, super speakeasy style musical den, Marian Beke is working on a hot sake based cocktail with super smoky Japanese whisky, green tea and fresh yuzu. Served in a traditional Japanese tea set with bean filled Asian pastries on the side.
129 City Road, London, EC1V 1JB
BLACK TEA
On a recent visit to the hip hangout that is Mark's Bar under Hix Soho, Nick Strangeway was getting busy behind the bar making Breakfast Martinis, YES. It's Compass Box Whisky, Hix Breakfast blend (a black leaf tea from Rare Tea Co), and marmalade, served straight up with a side of buttered marmalade toast. The smoky tannins in the tea are softened by the buttery toast, BarChick's kind of breakfast, easy to turn into a lunch in here.
66-70 Brewer Street, London, W1F 9UP
JASMINE TEA
One of London's slickest hotel bars, Bassoon at The Corinthia serves a floral English Tea Punch: lavender and fennel seed infused vermouth, gin, mint & elderflower cordial and jasmine tea; it's almost good for you. Get dressed up and sink into a leather banquette, it doesn't get better than this!
Whitehall Place, London, SW1A 2BD
ROSE PETAL TEA
The Gilbert Scott Bar at the grand St Pancras Hotel has a selection of tea cocktails that even your granny would approve of. The Delicate Rose is a flowery concoction made with Hendrick's Gin, rose petal tea, pink grapefruit, elderflower and cucumber. Order one alongside your classic afternoon tea sandwiches to take things up a notch!
St Pancras Renaissance Hotel, Euston Road, City of London, Greater London NW1 2AR