This is for all you culture vultures. Sure, you're down with the theatre kids and are at all the hottest shows in town, but do you know where the pre / after parties are at? Or where to take Granny before the matinee? BarChick has hit the theatre tiles and found the hottest spots near some of London's finest theatres!
The Royal Court
– Sloane Square, SW1W 8AS
Dinner: The Botanist – This buzzy bar and restaurant located on the square is the perfect place to book for supper. It's incredibly popular with Sloaneys and theatre-goers alike and there is a delicious and reasonable theatre menu (£21 for 2 courses, £26 for 3 courses).
Drinks: Barts – The five minute walk will provide a perfect opportunity to discuss the performance, but when you arrive you will soon forget it. Beg entry into London's coolest speakeasy, raid the fancy dress then get stuck into the cocktails – drink salmon based cocktails or classics in teapots, it all goes down worryingly well in here.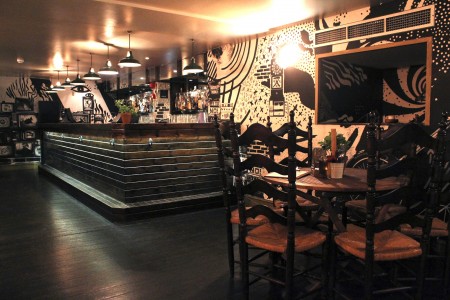 Finborough Theatre
– Earl's Court SW10 9ED
Dinner: Evans and Peel – First things first, you have to sleuth past the detective in the hope that he will swing back the bookcase to reveal a world of 1920s prohibition sin. If successful, you will be treated to sumptuous cocktails and smoked food in the form of sliders, mac n cheese and cheesecake. Watch out, there is a potential to miss the theatre with this one.
Drinks: Ping – With all that sitting down it's time to do some gaming, so get stuck in to a spot of ping pong. Take your date down whilst downing cocktails… Chandler Ping anyone? Plus if you're still peckish do not neglect the caramelised pear pizza. Score.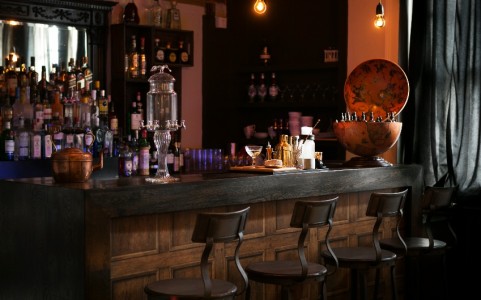 Hampstead Theatre
- Eton Avenue, Swiss Cottage, NW3 3EU
Dinner: Dach & Sons – It's all Meat Packing District in here with white tiles, dangling bulbs and neon sings. Drinks are simple, whisky or beer but you're here for the 4 different hot dogs. Maybe don't dress up too much, the roll of kitchen towel warns you that things are going to get messy.
Drinks: You're going to be pretty messy so maybe it's best you stay put. Drink Boiler Makers, beer with a shot of whisky. We like the Dark Star served with Woodford Reserve. Do it.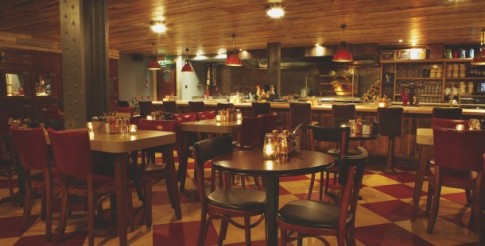 Giant Olive Theatre
– 44 Gaisford Street, Kentish Town, NW5 2ED
Dinner: Chicken Shop – This basement restaurant pays homage to the one and only… the chicken (not the egg). It's deep n dirty South down here, and it's sexy with its dim lighting and flickering candles. The chicken is rotisserie perfection.
Drinks: Shebeen – Head down to this prohibition styled drinking den, where the tipple of choice is the illegal Irish moonshine Potcheen. It's pretty damn strong so watch out, and just remember it might not be the sexy candlelit ambience that is making your date look at you with gooey eyes.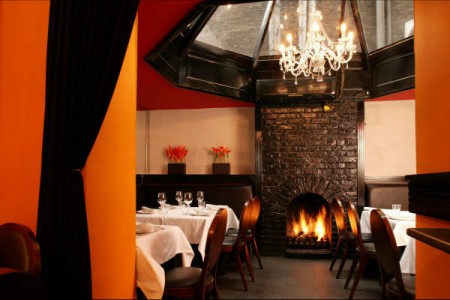 Drayton Theatre
– 153 Old Brompton Road, London, SW5 0LJ
Dinner: Cambio de Tercio – If you are looking to impress your date, then this divine Spanish tapas restaurant is the place to take them. Start with Champagne, move onto delicious wine and indulge in octopus, lamb cutlets, foie gras, tuna tartar, Spanish salty cod and monkfish casserole.
Drinks: Nam Long Le Shaker – This place is a whole lot of fun, with a mixed bag of a crowd and some seriously strong drinks that will make you forget the performance. Have a Flaming Ferrari if you dare, but stick to one otherwise you won't be able to walk.
503
– Battersea, SW11 3BW
Dinner: Bunga Bunga – Maybe a touch rowdy for pre theatre, but if you're in the area it's a bit yes from us. Expect serenading accordion players, karaoke, naked body aprons, bartenders dressed as gondoliers, sharing cocktails and some of the best pizzas around.
Drinks: The Lost Angel – With kooky/mad house interiors and delicious cocktails, this is the place to end the evening. Think white London phone box, trumpet lights and mannequin legs. Drink the English Gent's Mojito (for starters) it's delicious with all its marmalade bits, if you can get them up your straw.
Victoria Palace Theatre
– Victoria Street, SW1E 5EA
Dinner: Boisdale – This place is not only a wicked old school drinking den, but it's a carnivore's heaven. Plus the haggis is in full swing in here so don your tartans for the theatre. The cocktails are also very good, so carefully study the book-like menu before you choose.
Drinks: Grand Imperial Bar – Hidden inside the station, this bar boasts some insanely strong authentic Chinese spirits. Each of the cocktails are mixed with delicious and fruity translucent gummy balls that burst and pop when you eat them, trust us they're amazing!
BAC
– Clapham, SW11 5TN
Dinner: Soif - is the third offering from the guys behind well-regarded wine bars Terroirs and Brawn. With a zinc bar and wooden floor boards it feels more like France then Clapham, and the stripped down menu and affordable wine list are perfect for getting things started before the show.
Drinks: P.K.D – This Colonial Britain and Victorian inspired pad is the place to drink, so look no further. Best of British is game in here so expect top hats, cravats and old school beats. The cocktails are where it's at, they make their own cordials, bitters and shrubs and my God do they know what to do with them.
Old Vic
– Waterloo, SE1 8NB
Dinner: Anchor & Hope – It's beautifully British and charmingly chaotic in here. Unfortunately you can't book, but if you turn up early pre theatre it shouldn't be a problem (there may be a wait do don't rock up totally starving!). Eat calf's brains, faggots, foie gras and save room for pudding.
Drinks: Skylon – Massive wine list, amazing cocktails and incredible views. This sky high bar is the perfect place to end the evening but having said that with a mixture of those perfect concoctions and breathtaking views, it is guaranteed that the night won't end here…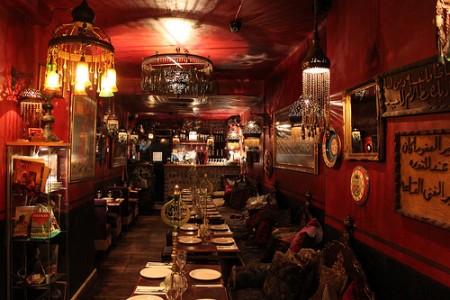 Almedia Theatre
– Almedia Street, Islington, N1 1TA
Dinner: Gallipoli Bazaar – Everyone loves a bit of Turkish and Lebanese cuisine, especially in this pretty little restaurant. The meat is tender, the chicken succulent and the menu eclectic.  Don't miss out on the baklava and get involved in the belly dancing.
Drinks: 69 Colebrooke Row – New York prohibition is the vibe in here and there's a piano in the corner which they bring out on jazz nights. Tony the dashing mixologist has got it all covered from putting horseradish vodka in your Bloody Mary to charging your Almond Blossom with prosecco.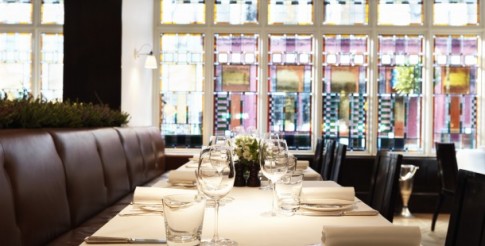 SOHO
Dinner:
Bentley's – With great cocktails, an oyster bar and an outdoor terrace this is the place to indulge before the theatre. Head upstairs to the grill from 5.30pm onwards and eat potted tea smoked mackerel and pork belly with chorizo and squid amongst other delights. 2 courses £16.95, 3 courses £19.95.
QV – This place is just perfect for any occasion, especially dinner because head chef Jeremy Lee is not only colourful but a wonderful cook. The theatre menu is served all day, eat chicken and duck liver pate, pork patties and lemon posset and wash it down with a white peach Bellini. 2 courses £17.50, 3 courses £20.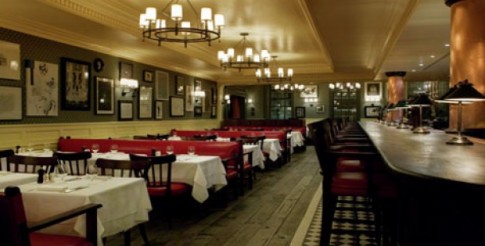 Dean Street Townhouse
– It's all dark wood and red leather with a big long bar and intimate dining tables. Usually rammed so book ahead and settle into the early dining menu, enjoy beetroot cured salmon, fishcakes and raspberry trinity, or whatever takes your fancy and don't neglect the cocktails. 2 courses £16.50, 3 courses £19.50.
Burger and Lobster – If you're going to the theatre, you might as well go all out and start the evening off with a lobster (or a burger), and at £20 it's not going to be too painful. This new branch is perfect as you can book just to ensure the evening goes swimmingly. Accompany your catch with some of their specially themed L cocktails.
Wahaca – Ok so it's not your average pre theatre grub, but if you dig amazing Mexican food then look no further. Firstly order in the tequila (trust, the performance will be 10 x better) then hit their amazing street food: tacos, tostadas, taquitos, they've got it all and more.
Brasserie Zédal – If you want to start your evening off in grand style (without breaking the bank) then this beautiful art deco Parisian brasserie is just the place to do it. Eat the plat du jour for £12.75 or eat steak and chips for £7.50, grilled sardines for £9.50 and finish up with a crème brulee for £3.50. With prices like these, to hell with pre theatre offers!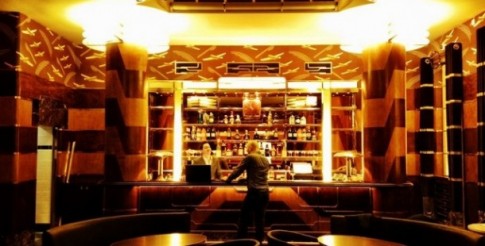 Drinks:
Experimental Cocktail Club – These Parisian dudes can be a little bit stuffy when it comes to letting people in so bear that in mind and dress snappy/sexy. Look out for their shabby chic door and enter (if allowed) a laid back, cool den. The cocktails are exquisite and unusual, but go the extra mile and try the vintage ones.
London Cocktail Club – It's all British Naval theme in here and we love it! Enter a world of overproof rums, tattoo parlour stylings and skull and crossbones wallpaper. Plus there's plenty of dark corners for late night tomfoolery. The cocktails are impressive definitely try the House Grog – it's pretty punchy so you can see what your date's made of.
The Azulito Bar – If you haven't been down here then why not? It's super fun and very colourful. Tequila is the name of the game so get stuck in, and definitely splash out on the rarer types. Bagsy the swinging chairs, pop on a sombrero and sing about the performance.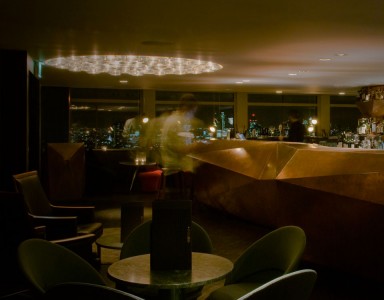 Bar Americain
– The perfect place for a night cap after the theatre. Safely ensconced in this art deco haven hidden below the chaos of Piccadilly Circus, you feel like a movie star waiting to board an ocean liner. The drinks are elegant, classy and well made. Sit back and enjoy.
Mark's Bar at Hix – Hidden underneath the very decent restaurant lies this magnificent (sunken) bar. It's kinda loungey down here with big sofas that no one minds sharing. The drinks list is vast, quirky and fun, make sure you have a Hix Fix, they're delicious but deadly.
Paramount – Located on the 32nd floor of the towering Centre Point lies Paramount, home to stunning views that stretch far across the capital and delicious drinks. Take your date for Champagne and head up to the viewing gallery.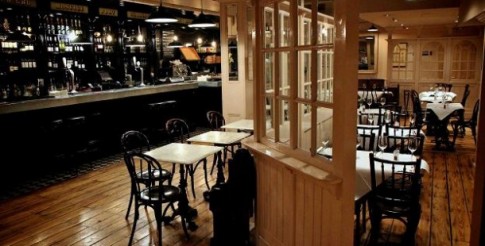 COVENT GARDEN
Dinner:
J Sheekey – If you are a fan of seafood then look no further for a spoiling dinner pre/post theatre. With oysters, crab and caviar galore you really can do no better in these parts. Why not get stuck into the Champagne list?
Joe Allen – Locate the discreet entrance and enter into this charming and buzzy restaurant. Dress up or dress down, they're friendly in here so you will always be welcome. Eat buffalo chicken wings, roasted leg of lamb and plum cake accompanied by delicious wines. 2 courses £16, 3 courses £18.
Bedford and Strand
– Always packed with happy folk, this Parisian brasserie hidden downstairs is the perfect theatre accompaniment. The food is delicious, eat the plat du jour and drink lots of cocktails because they're too good to stop at one.
Mishkin's – It's a twist on a New York Jewish deli with the welcome addition of some amazing cocktails. Eat chopped chicken liver, meatloaf or macaroni cheese and tuck into the mainly gin based cocktails.
The Savoy Grill – Where better to start off the evening than in the iconic Savoy, and with their pre theatre menu you needn't mortgage the house.  Enjoy chicken liver parfait, pan fried salmon and Eton mess coupled with delicious wine. 2 courses £20, 3 courses £26.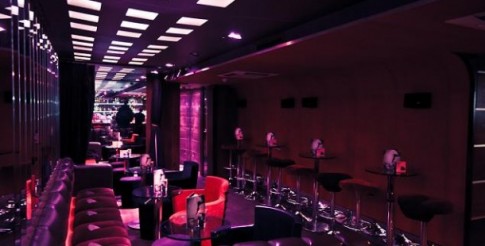 Drinks:
The Covent Garden Cocktail Club -  It's a little bit like a gentleman's club down here, only minus the rules. It's a dark, delicious den down here that you might never want to leave. The bartenders are talented so put them to the test.
Cellar Door – If you want good cocktails, drag queens and good old fashioned snuff then you have got to stroll down the steps into this wicked bar (it used to be a men's public loo!). This is the ultimate hidden gem hidden beneath The Aldwych and is the perfect place to end the evening.
Hawksmoor – It's like an Oxford College library down here, you feel like you should be studying, so study the menu hard. The drinks are perfect and the surroundings beautiful. The Bloody Marys are some of London's best, and do drink many Shaky Pete's Ginger Brews.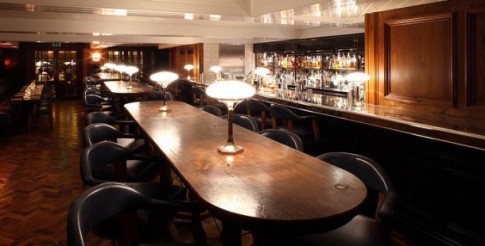 Upstairs at Rules
– Squeeze past the liveried doormen and head upstairs to this fantastically camp old school gentleman's club. Classic cocktails are king here and the back bar is well stocked so you'll always find something interesting to sip on. Slab of Stilton with your drinks? Yes please.
The Light Bar at St Martins Lane Hotel – This swanky bar takes the concept of atmospheric lighting very seriously, and the effects are pretty stunning. Settle down with your date in one of the snug niches and tuck into the cocktails, they're pretty inventive, try the Strawberry Cheesecake.