If you want to keep clear of door drama,  bus drivers from Watford and see for yourself what really happens behind London's closed doors, then members' bars are for you.  Obviously BarChick enjoys carte blanche around all the city's finest, so here's the first look at some of our favourites:
Tucked away in a quiet corner of London, the legendary Olympic Studios is now home to this swanky, New York cool private members' bar. Every single detail in this place has been thought out, from the Conran style table lamps to the cutlery, it reeks an old school vibe with a sleek modern finish. This is a strictly private members only kind of bar, so you'll need to get in with one of the Bob Geldof type members or jump on that waiting list ASAP. Once you do get in you'll find yourself in a haven of privacy and peace and quiet, perfect for meetings or a quiet afternoon's retreat. But don't get us wrong, this place kicks off on the weekend. The cocktails are classics, executed with perfection and come in the classiest of vessels, and the food is not to go unmentioned either. Head here for a pre-cinema supper or to pull the curtain on the night with a stiff one.
117- 123 Church Road, Barnes, London SW13 9HL
This is one of those members' bars that take their entry for non-members VERY seriously. That said it's time to mingle with the art types and get in as one of their guests, just say you have an exhibition somewhere east in a derelict warehouse or that your mum and Owner Dudley used to date. Once the friendship is made and you've managed to get into this HUGE Chelsea house then make yourself right at home. There is a massive and luxurious garden surrounding it so it's amazing in the summer, obviously!
Feeling lazy or the suns not out? play pool in the bar, indulge in some serious food (that's very affordable believe it or not) or chill at the bar (like BarChick does regularly). Turn your phone off (seriously, its not cool to have it even vibrate) and relax/party, you'll have fun, and meet some real one off characters.
143 Old Church Street  London, Greater London SW3 6EB
Not only has this place got a delicious restaurant, Brasa, but it's got a great bar AND two roof terraces which are great for chilling on when/if the sun is shining. Not really the club to join if you want to party hard to house music, but having said that they do sometimes have DJs. It's the perfect place to host meetings, sip Champagne on the terrace at any time of the day or tuck into something delicious. So for chilled but smart surroundings, a group of likeminded people and a club that brings everyone together through interesting events, join.
P.S. BarChick's only gone and done it again and got you a wicked offer… membership usually costs £300/year however if you quote BarChick when joining they will very sweetly give you back £150 onto your membership card for you to spend on food and drink – so let the Champagne corks fly on one of their killer roof terraces.
Broadway House, 474 – 476 Fulham Road, SW6 1BY
Shoreditch House is the best of the Soho House cribs in London, particularly in the summer.   Head straight up to the roof, bag yourself a slot by the pool and make like you live in California.  It's a pretty epic space, a few bars, a couple of restaurants and loads of fashiony types floating around looking beautiful. If you want to be a member then become the new creative director for a major fashion label, or else befriend someone who joined early doors before the waiting list got so long. Just a heads up, try to hold it down at night if poolside, it's not hard to fall in.
Ebor Street, Shoreditch, London, E1 6AW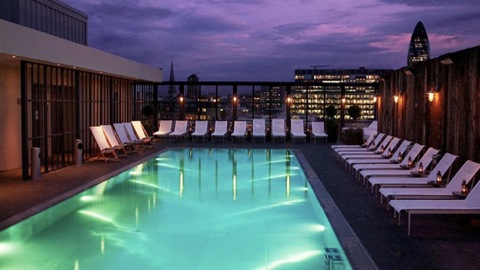 This place is probably the fanciest of the lot; Richard Caring's spendy vision of art deco glamour and hospitality that made the restaurant downstairs so successful.  It's all about the piano bar, and aperitif time is probably the most atmospheric, particularly with Joe the pianist tinkling away at the ivories.  You might need to sell a kidney or two to pay for your drinks, but then there's always the chance of bagging yourself a media mogul and making up for it in the divorce settlement. If you want to get in then spend a couple of years working your way through the restaurant downstairs.  You start at the back, then after 18 months on row 1 you might get the golden ticket to join upstairs.
1-5 West Street, City of London, WC2H 9NQ
It's the stuff of legend and remains the spiritual home of the Soho misfits.  Drop in 'for a quick drink' at 7pm and you'll find yourself stumbling out at 2am and banging on the door of Gerry's.  Sure, your Gran can make better cocktails but you go here for the atmosphere people, not some mixologist wafting green tea into a jamjar. To get in you gotta sleep with someone on the committee.   Or try hanging about outside smoking fags & looking hot until some pot-bellied channel controller steals you in under his flanks.
45 Dean Street, London, W1D 4QB
This Berkley Square institution has been around longer than Tara P-Ts dr*g habit and has plenty to offer the rakish party seeker who wants to keep out of Soho.  It's got one of the best wine lists in London, decent grub and  shock horror – the DJ plays music you've actually heard before. If you want to get in here then you should either go to public school, or get a job in a bank and soon as you play sticky bicky with Gussie Finknottle you'll be right in.
44 Berkley Square, London, W1J 5QB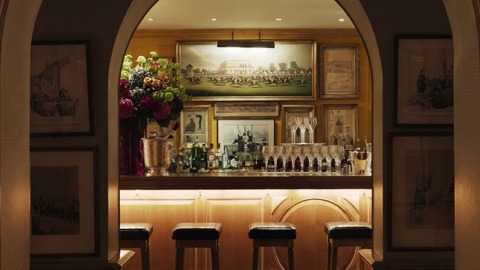 Ever since BarChick ended up playing pool with Metallica on her first visit, she knew she'd found her home away from home. Considered one of the finest Cocktail bars in town, it's off to a good start, combine that with awesome art, a piano, an honesty bar and some of Soho's finest dining, it pretty much has it all.
Next all you need is London's most eclectic bunch of members, from actors to aristocrats it can really kick off up here, but you can never tell when.  Its quieter in the day so is great for a meeting, but it will no doubt turn into a 2am session. Go alone, you'll soon have a new best friend, I recommend having a Tonic Boom with anyone and everyone at about 4pm to be sure. Think outside the box to get in here and be nice to BarChick. P.S. NEVER use your phone, you'll look like the rookie new kid.
26-29 Dean Street, London, W1D 3LL
The Dalston Arts Club 
The home of Fox & Cutlass, a Victorian curiosity/taxidermist's shop/private detective agency run by Professor Ulysses E Fox (HMU) & The Rev. Captain Liability Eden H.M.U. with the help of their formidable housekeeper and intrepid company secretary Mrs Trellis. By day an innocent curiosity shop/defective detective agency, but by night home to wild parties, fancy dress affairs, from Chess Boxing, to Moustache parties! It is also a local Artists Gallery/Theatre Space/Private Members Cabaret Venue, accessed through a secret door in the bookcase. All applicants for membership must be known to them, or have a recommendation from an existing member. Contact BarChick for more clues, it's worth finding.
It's back, and it means business. They've got it all going on in this Park Lane p*ssy palace. A casino, a flashy club, a lounge bar, a barber shop, a dining room, and BarChick's must have, a smoking terrace. It's never going to be the best club in town, but looking at the pro's, we couldn't leave it out. Firstly those bunnies did more make-up than maths homework, so you don't need to be Rainman to clean up here. Plus, chicks in corsets, a 24hr food menu, and drinks served till 5am; everyone will want in at some point.  Ladies, its full of guys and there aren't enough bunnies to go round so you'll be well looked after too. Cash is king here so cough up.
14 Old Park Lane, Mayfair, London, W1K 1ND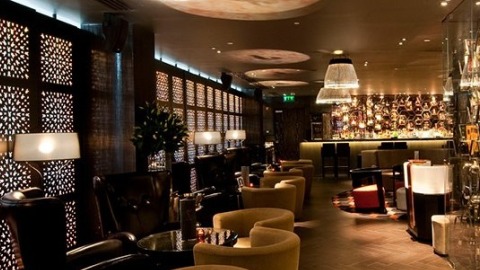 The Wellington Club, a.k.a The Welly 
Upon entry past the surprisingly witty and pleasant doorfolk you will be greeted by the newly refurbished "Cool as f*ck" bar. Its new eponymous nickname is thanks to the enormous neon sign above the door bringing some vivid colour to an otherwise brilliantly black room. Primarily for dinner (modern European with a twist), it also acts as a gateway to the debauchery that awaits downstairs. But before succumbing to the charms down below I suggest you ask one of the baddest barmen in Britain for a round of absynthe-based shots to get you going.
Like its owners, and father and son host duo, Christian and Jake Panayiotou, it has little time or respect for rules, which you will soon see upon entering the nightclub downstairs. To get in you need to find Christian first, email him on christian@thewelly.com.
 116A Knightsbridge, London, SW1X 7PL
This is the umbrella to some of the worlds finest drinking establishments. With bars in London, New York and the Alps, membership with this lot is like a passport for p*ssheads.  Milk & Honey and The Player in Soho, The Clubhouse in Chamonix, The East Room in Shoreditch (back soon after a fire), The Starland Social Club in Notting Hill, Danger of Death in Brick Lane. You won't regret signing up, plus if you are saving your pennies, then you can go for a more modest membership, without the whole lot. Go here for Insanely good drinks and good vibes. They're chilled, everyone is welcome here, how refreshing. There are no free memberships, so don't ask. It doesn't matter who you are or who you think you know.
116A Knightsbridge, London, SW1X 7PL