With the cold weather settling in and no summer dresses/speedos to slim down for, BarChick has been enjoying some of the AMAZING winter food that's been going around. Ok, so usually eating is cheating but with food this good, alongside all the hot drinks and delicious punch bowls about, it would have been rude not to check them out… right?
Pop Ups
Kurobuta pop up (Wednesday 9 October 2013 for three months)
If a Japanese pub sounds like your kinda boozer then you're going to love this place. It's a preview to The Kurobuta that is set to open in Marble Arch from Scott Hallsworth (ex Nobu and Wabi). There's a whole load of Japanese pastries, Monmouth Coffee, flamed endamame beans, killer sashimi, BBQ pork belly in steamed buns and tea-smoked lamb. The cocktails are what to get stuck into though, go for their range of sake based concoctions or the Kirin Frozen Head beer that comes ice-chilled and topped with a frozen head of foam. Try THAT.
251 Kings Road, London, SW6 2EB
Churchill's Port House (7th November – 22nd February 2014)
Christmas and port, it's a match made in heaven. Luckily for you, Max Graham, son of the founder John has opened up a pop-up in Soho until the end of February. He's taken over a three floor house on Greek Street and filled it with his delicious port as well as some tasty tapas. The first floor is white and where you want to be if you really want to learn, the second floor is where you'll find the chefs at work (lend a hand if you want) and the top floor is dark and calling out for a candlelight session with mates. The port is white or red and can be tried in flights if you're a real enthusiast. Eat tapas alongside the good stuff: spicy chorizo, chilli and garlic prawns, foie gras as well as some delicious puddings. Perfect winter evening.
12pm – 12am Thurs, Fri and Sat. 26 Greek Street, W1D 5DE 
Forza Win(ter) (Nov – Dec)
It's back baby and will be open every Thurs, Fri and Sat throughout November and December. Get yourselves down to the disused pickle factory in Hackney Wick for some real Italian feasting. Their big bond with the Ginger Pig will continue but this time Porchetta is at the core of their cooking. They've set up a wood fired kitchen so come rain or shine the food will be served up straight from her. Not into your pig? There's a hot cocktail bar for you so you can get involved in their Italian punch, hot spice beer, mulled port and pomegranate. We're going to order the whole darn lot. Oh and we'll be tucking into their specially selected wine list for pudding.
Tickets are £35 which gives you entry, a drink on arrival, a four course meal at a communal table (served family style) and entertainment.
Get tickets here  // Location revealed on booking
Purl at The Bedford (27 April 2014)
Hot cocktail joint Purl is taking things down to Balham to show south Londoners exactly how hot their cocktail making skills are. On the menu will be a some of the bar's Forgotten Purls, a range of some of their most popular cocktails they have had in their time. Tweet them if you want one of your favourite (Purl) cocktails on the list!
77 Bedford Hill, Balham, SW12 9HD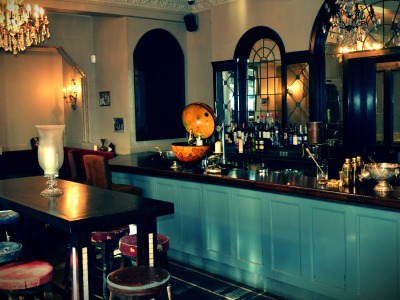 Stew House at the Dolls House (until Spring)
To take you from Winter to Spring is one of our favourite comfort foods. Check things out at The Stew House (where they'll be shacked up at The Dolls House) and get stuck into their seasonal starters, big bowls of steaming stew and pudding if you've got the room…
The Dolls House, 35 Hoxton Square, London, N1 6NN
Night Tales (Every Thurs to Sat through to Dec 14th)
It's another one of those foodie/boozy get togethers, but having checked it out at the opening weekend we can safely say that we wish this winter pop up was permanent. You'll find it tucked away off Kingsland Road and you'll love the choice of burgers, BBQ, Japanese gyoza and everything from a mescal corner to a hot Negroni bar. It's got big tunes too, and this, we think, is what makes it up there with the best.
Abbot Street Car Park, London E8 2JP // Thurs 6-11pm, Fri 6-midnight, Sat 3-midnight // Minimum £3 donation on the door
Mussel Men (27th Nov – Spring)
We've loved these guys for a while and now they're settling their shellfish in for the winter. They've got the usual mega deal of £45 for two to share 1 kilo of Shetland mussels and frites, 1 bottle of prosecco, two waffles with chocolate cream and fruit compote. They'll be introducing a Saturday brunch with the likes of kedgeree, kippers and eggs royal. Oh and London's first seafood roast! With big plates of sustainably sourced fresh fish, cocktails and some more cocktails. With a 2am licence at the weekend, we'll see you there!
428 Kingsland Road, Dalston, London, E8 4AA
WigWamBam The Eastern Lights @ The Queen Of Hoxton (October 2013 – March 2014)
Want some of that Northern Lights vibe without having to leave the country? This roof top tipi has got you covered. Think Alaskan settlement meets Nordic tribe… and if you're having trouble then think deer hide, candlelit lanterns, indigenous wall hangings and a roaring flaming grill in the middle. This is the spot to hit for grub too: wild boar burgers with forest fruit chutney, leg of lamb with rosemary and garlic stuffing and hot smoked salmon and dill burgers. We'll be there for the Hot Gin Punch and Hot Buttered Rum… just don't forget to get your toasted marshmallows on.
1-5 Curtain Road, London, EC2A 3JX // Open Monday – Saturday 5pm – 10pm and Sundays during event times
Toast and Roast (Every Sunday Oct 6 – Dec 15)
Nothing beats a Sunday roast, but nothing beats a Sunday roast when you don't have to cook. Combine this with a homey vibe and delicious wine and that's what Toast and Roast do so well. Book in for just you and a mate or a whole fam/bunch of friends, they have a maximum of ten people per sitting. The three course menu is not only seriously tasty but cleverly divided so that the veg is the starter, meat is the main and sauce is the pudding. Every course is matched with a superb wine and your Sunday afternoon will pass quicker than you'll ever have wanted it to. It's all housed in a wicked warehouse space and we can safely say it's the best £35 you'll spend on a Sunday. Like ever.
Studio Gi, Enterprise House, 2 Tudor Grove, London, E9 7QL // 1.30 – 5pm 
Russian Winter Pop-up Lounge at the Pullman Hotel
This is for all you high rollers out there. If caviar, cocktails, candles, snow, Stoli Vodka and Swarovski are your thing then you sound like our kinda date… and you can take us here! It's all faux fur, frozen trees, vodka and caviar bars and shots of Beluga for toasting like true Russians. Za zdorovje!
100 – 110 Euston Road, NW1 2AJ, London // Available for groups of 30; minimum spend £1,000
Vinter Bar (Every Friday and Saturday night from 8th November until 21st December)
This is one for all you Balham Babes! Go check out this alpine inspired wine bar that's dedicated to mountain wines and cheesy small plates. From the (great) girls behind A Grape Night In, you can expect some unusual but expertly chosen wines and seriously good grub….
Trinity Stores, 5 Balham Station Rd, London SW12 9SG // Prices start at £4 for wine and £3 for small plates and it's open from 6.30pm – 10.30 pm