Boys love to ask BarChick where to take chicks out…in fact it's what we seem to get asked more than anything. SO, like one of those "FAQ" pages seen on many websites, we thought it was time to put it on paper, so you know where to seduce/dump/sh*g/kiss that girl……let's do this.
FIRST DATE
Someone's usually nervous, so loosen up and both get trashed.
Gordon's Wine Bar, WC2 – This dark intimate cave-like bar is romantic, but not cheesy, and is perfect for sharing a bottle. Plus if she drinks enough and your chat's good, then go for a cheeky fondle in a dark corner.
The Azulito Bar, W1 – Tequila not only makes you happy, but it also gets you trashed. In this bar there's a lot to keep you entertained; table football, swinging chairs, some mega guacamole, and London's biggest collection of tequila. If she doesn't like it, lose her.
Dukes, SW1 - This place is dead posh, and is where James Bond's Vesper Martini was invented (…a little conversation starter). If you're not Bond-like it may not be for you, but man do those martini's f*ck you up…
Lounge Bohemia, EC2 – Make an appointment and let her know that no office wear is allowed. Rules are rules. Go tuck into their seriously weird menu, with drinks coming in perfume bottles and toothpaste tubes… she'll DEFINITELY remember this date.
THE ONE
You already love her, it's got to be perfect, and you don't care how much it costs you, it's the real deal… (for now anyway).
69 Colebrooke Row, N1 – Sexy little bar, with some of the world's finest cocktails. Grab a small table or take a seat by the piano and get some of mastermind Tony C's creations in, they're pretty cool. He has his own lab round the corner – god knows what goes on up there but the sh*t he comes up with is working.
ECC, W1 - If you want to hang out Parisian style, then you need to head to China Town, the relief of the sexiest bar hidden behind a discreet door, and the fact that you're not taking her to some buffet will only magnify the effect. This place is great, and open till after 2am, so if it does go as well as you hope you can stay all night. Ring ahead, and look good, these French guys don't like to let in anyone who doesn't suit their style.
Oblix at The Shard, SE1 – If you're looking to spice up date night a little, this place is the answer. First things first, the views are mega, and you're in The Shard which is a hot ticket right now. Book a table by the window and sink some epic cocktails as you take in London's skyline. Stay and eat, the food is delicious and it's all designed to share, we say feed each other then get jiggy to the live music. Perfect date night.
THE ONE YOU WANT TO BREAK UP WITH
It's time to get out, as quickly and as easily as possible…
The Mayor of Scaredy Cat Town, E1 – This place is underground and is hidden through a SMEG fridge, plus there are good cocktails and (comfort) food.  Order her some chili fries (she can pretend it's the spice if she cries) and a strong drink, break the news and go to the toilet, which is in fact the exit, genius escape route.
THE ONE YOU WANT TO SLEEP WITH
She's hot… or there's just something about her (tits, ass, mouth), whatever it is, you want in…
Straight to yours with a bottle of red… too much/too obvious?
J Sheekey, WC2 – Oysters = aphrodisiacs, obvious yes, and they work apparently. J Sheekey's is the best place for oyster fix. Plus if she puts an oyster in her mouth on the first date, she'll do anything.
The London Cocktail Club Shaftesbury Ave, WC2 – It's fun, it's got loadsa rum (another aphrodisiac and not as cheesy as oysters), they've got good tunes and it closes at 12 so nice and early…plenty of time to get some action in.
THE REBOUND
You're not gonna fall in love with her, whether or not she knows it, you just want some fun.
El Camion, W1 – Head upstairs for some Mexican (chilled, cheap and not romantic) then head downstairs to the Baja room to get smashed on tequila and do some dirty dancing. Anything goes here. BarChick never remembers leaving, so needless to say your date will go home with you, and if you drink enough you won't even have to remember it.
Beaufort Bar at the Savoy, WC2 – The Savoy, check, sexy champagne bar, check, some light cabaret, check; this place is only going to leave her with a taste for it and wanting more, just make sure you can back it up, you can't take her to Nandos next time.
THE ONE NIGHT STAND
Find her, and take her down, you don't even want to know her name.
Slim Jim's Liquor Store, N1 – A dark and dirty American dive bar that knows how to party. Beers, bourbon and a LOT of bras on the ceiling. Get your date to hand over her underwear and she'll get a free drink. So yes, she'll be p*ssed and commando, and if she doesn't play ball and get 'em off, you can move on to someone in the bar who does. Put out or Get out…
GOOD FOR THE POSH GIRL
Hotel bars are what these girls need, they can be sluttier than most… so if it goes that well, and she is that posh, she'll be keen to get a room.
Artesian, W1 – This hotel bar has thought of everything to make a girl weak at the knees; flower scented water, butterflies, plush purple seating, some seriously good cocktails, and great service – as she expects.
Connaught, W1 – The Connaught is proving to be one of London's best hotel bars and just like a fancy hotel in Bali, you're given a welcome drink when you settle down, the Martini trolley is where it's at. (Take all your money; you'll need most of it or more in here).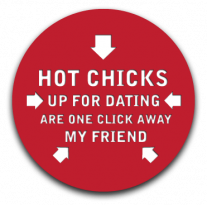 GOOD FOR A COOL CHICK / GIRL WHO'S DONE IT ALL
It's almost annoying, but rise to the challenge or just take her to Wetherspoons.
Danger of Death, E1 – Is it a bird? Is it an antiques shop like the sign suggests? No, it is in fact Super Pizza. But even that's not why you're here! You're after the members bar downstairs. There are cocktails and pizza, and best of all she might not have heard of it, nor be a member. (Call ahead and beg for access/cough up the reasonable membership which gets you access to the coolest bars in town).
Cellar Door, WC2 – Take her down to an old public toilet and find a cheeky dark drinking den with drag queens, snuff and see-through toilet doors.
Vinopolis, SE1 – Get your culture freak on at Vinopolis. It's a daytime thing, and you kick off with a 10 minute wine lesson, so you know what you're doing. Grab your vouchers and you're let lose in various rooms filled with huge themed props for each country and loads of wine (say yes to the moped simulators, they're awesome). There are regular wines, premium wines, Champagne, gin, rum, whisky and absinthe all under one roof, you'll be smashed and cultured.
GOOD FOR A COUNTRY GIRL
You either want to make her feel at home, or show her what city life is all about. Take your pick.
Country vibes – Mall Tavern (W8), pheasant, game, good wine, proper pub grub. Oh and it's pet friendly so she can get her pooch out.
Urban vibes – Take her up high where she can see the city, any of this lot will be just fine.
GOOD FOR THE OLDER LADY / COUGAR TYPES
She's probably older, wiser and more sophisticated, treat her like a lady (but not a hooker).
China Tang at the Dorchester, W1 – This place is sexy, civilised and is the perfect place to show her you know how to treat a woman properly. Other hotel bars are too often filled with hookers, and we're told they don't always sit well together.
WHERE TO TAKE THE FOODIE
A girl with a decent appetite should be celebrated. Go eat, drink and be merry!
Mishkin's, WC2 / Spuntino, W1 / Polpo, W1 – Russell Norman is like the Ron Jeremy of the restaurant industry; creative, fun and always mixing it up a little. Take her wherever you can get in.
Gremio de Brixton, SW2 – Hidden under St Matthew's Church she'll think you're taking her for some sort of midnight mass but instead it's a dark and intimate tapas restaurant and bar. There's amazing food, plus dark corners to get a lil nasty.
Hawksmoor, WC2 – This place is amazing, and if she's not begging to come home with you after all that steak and those killer cocktails, then quite frankly she should walk home.
WHERE TO TAKE A LADETTE
It's like hanging out with the boys, only you get to kiss her. Win win.
Bar Kick, E1 – With a wide range of drinks from all over the world, six football tables, sofas, food, sports and comedy shown on the screens, you could be here all night. Laid back, not too pricey, and table football is a game anyone can play (no spinning…). Awesome, it doesn't even have to feel like a date.
Meat Liquor, W1 – If she's a ladette and chilled then clearly she won't be worrying about what she eats or how she looks whilst eating. With MeatLiquor whacking a whole roll of kitchen towel on your table with your burgers and chili fries, it means things are gonna get messy. Plus the music rocks and the cocktails are awesome. Yeah!
GIRLY GIRL
She love's rom coms and isn't afraid to wear floral prints.
Ninetyeight Bar and Lounge, EC2 – This mad house is full of jars of potions, old school sweets that you can help yourself to and odd mismatching furniture, including a chair made of balloons – she'll be in heaven! Infusions are the game here so try out whatever Kath's got going on. Maybe keep the fact you can get married out back a secret to your date, those girly types go mad for that sh*t.