BarChick loves boys, and as much as she likes to be wined and dined, sometimes it's just as important to return the favour/give it back, right? Take the reins and take HIM out, up the steaks and show him how dates should be done. We've got lots of liquor and heaps of man food, so now just make sure you dress slutty and eat with your mouth shut and we guarantee he'll be begging for more.
This is a DAMN good hangout for a man date, plus home to the best chilli fries ever (fact), and to a massive bourbon collection. Plus they have some bad ass barmen who know how to mix and shake a decent cocktail. Open from lunch until 2am with good music, sexy lighting and a cheeky atmosphere, it's the perfect place to come eat, get trashed, and find yourself snogging in the corner. Not for the suited and booted types in here, its ain't flashy, or spenny. Word of warning, if you're on a diet and prefer your things "skinny", there are only 2 salads on the menu and they're under the title "Rabbit Food". But give a sh*t, boys love a girl with an appetite. Plus with Secret DJ operating you can queue up a song he loves to get him in the mood.  If you aren't in this area then there is always MEATMISSION and MEAT MARKET, meat out.
76 Welbeck Street, Marylebone, London, W1G 0AY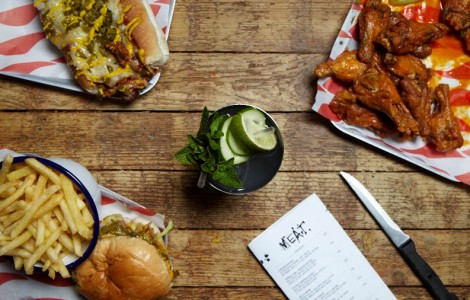 Butchery Course at the Ginger Pig
If you want to keep busy on your date to keep the nerves at bay then why not get butchering some animals? (avoid if your date is a veggie – that could end in tears). Have some skilled butchers from Ginger Pig teach you all about the meat: where it comes from, how it's used and of course the art to the cutting. Sure, this date is a little out there, but at least it shows you've got some balls, plus they won't want to mess with you knowing that you have those kinda skills!
8-10 Moxon St, London, W1U 4EW

The way to a guy's heart is through his stomach, so hit the Hawksmoor, for big ass steaks, some amazing cocktails and a killer wine list. Food here can be shared, which is easier on the finances too. Kick off with Dirty Martinis and oysters (the classic aphrodisiac), and be sure to finish with Blue Blazers and sticky toffee pudding. Genius, and if the evening fails, those barmen are hotter than most boys, so you won't care how bad the date went. P.S If you think he's more of a fish lover then take him to the Air Street branch where they dabble with that too!
11 Langley St, London, WC2H 9JG     (Also locations in Guildhall, Spitalfields and Air Street)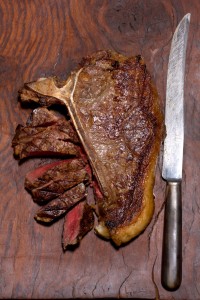 Where else can a guy stare at another woman's underwear in the presence of a new date and get away with it? Here at Slim Jim's it's pretty hard not to as they're hanging off the ceiling. Hand over your sexiest (but cheapest) bra, they'll hang it up and you'll get a free drink, (just don't expect it back). Sound like a fair deal? Get involved. If that doesn't show you're a good time kinda girl then we're not sure what does.
112 Upper St, London, N1 1NQ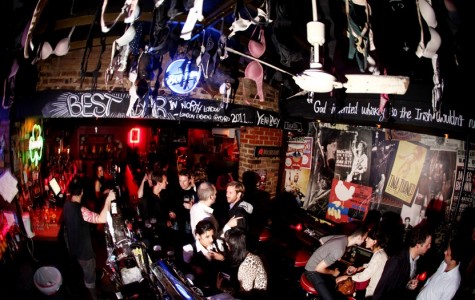 He'll think you're walking into an antique store, only to find it's a chilled pizza and beer joint that looks kinda uninspiring. But look to your right, go through the door and head downstairs to the hidden speakeasy Danger of Death for some pizza, beer and killer cocktails. You'll look so clued up he won't be able to resist. If you know about this what else do you know about? Second date = done.
202 Brick Lane, London, E1 6SA
Wanting to go for a more leftfield approach? Head down to Cellar Door for some drag acts, cocktails and some snuff (9 flavours of the stuff!). Don't be put off by the drag singers, they won't bite, hard. It's the perfect way to see if your date can handle himself, last time BarChick was there they managed to get her date to stand up and dance to Rudolf the Red Nosed Reindeer. It's all about the taking part, right?
Zero Aldwych, London, WC2E 7DN
Not feeling the fancy cocktails or the meat hit? Then head down for some fish and chips. It's casual, cheap 'n easy, oh and it's also insanely delicious. Score points by ordering the pollock, by far the most sustainable of the fish on offer, and throw in some Fish Fight chat to show your environmentally friendly side. There's no loud music or dim lighting so not the most obvious choice if you are looking for some public snogging space, but it's sweet and romantic in other ways and is a great place to get to know someone. If you're feeling it, then I'm sure you can make out on the street on your way home.
164 Shepherds Bush Road, London, W6 7PB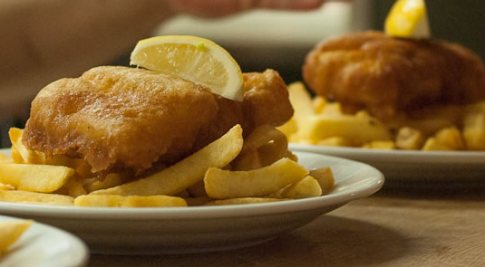 There's nothing worse than a girl who's scared to eat in front of her date. Cut the cr*p, man up, grab a bib and get stuck in to the all you can eat ribs; maybe challenge him to a contest? BarChick did and won.
332-334 Kings Road, Chelsea, London, SW3 5UR 
If you think the guy's ego needs deflating a little, show him what a girl really wants by taking him up The Shard. We're digging Oblix right now with its buzzing atmosphere, amazing cocktails and delicious food, plus the insane views are perfect for awkward first date chat. Make sure you swat up before you go, BarChick was not impressed with her date who got very his landmarks very confused, we weren't buying it.
Level 32 The Shard, 31 St Thomas Street, London, SE1 9RY
Bowling has been a good date spot since the 50's, so it must be doing something right. It's the perfect setting for some competitive flirting. Act pathetic and coy so he will show you how to bowl the ball in the best way… and then you can thrash him like BarChick did. Even though he'll be embarrassed he will clearly find it attractive. We haven't even mentioned the banging cocktails yet. This place is a no brainer.
Locations in Holborn, Bayswater, Brick Lane and Stratford.
OK, for a first date garlic isn't the most popular choice of ingredient but this place is genius. Everything has garlic in it, even the beer (you can only ask for more garlic, but never less). You may as well jump in at the deep end and get involved, if you're both eating it then surely it isn't a problem when kissing? I'm pretty sure everyone likes garlic apart from vampires anyway. There are 101 shots to choose from here, and surprisingly they don't ALL contain garlic, however the number one shot is the bloodshot: tomato, vodka, garlic, chilli and spices, rack 'em up and get shooting.
14 Frith Street, Soho, London, W1D 4RD
Golf is definitely a man's territory.  Girls tend to be interested in only the sweater vests, visors and the golf buggy, or in this case, the drink. So head down to Urban Golf where you can sip on cocktails, and let him play virtual golf in your own private green/booth. Also, another perfect opportunity to play the pathetic-sports-girl-needing-help-with-her-swing (and also a great chance for him to get up close behind you).
Locations in Kensington, Soho and Smithfield.
We've said it before and we'll say it again, get to a man through their stomach, especially with meat. The guys here do the BEST ribs in London – mammoth portions and some serious sides. PLUS it's the home of the Beavertown brewery, YES boys. If that doesn't get your date interested we don't know what will!
33 Downham Road, De Beauvoir Town, London, N1 5AA
Cheap, laid back and serving only the finest ciders and ales, a man's heaven. It's not fancy; you can sit outside, play the piano, join in the pub quiz, but most importantly get wasted on cloudy cider. They're wonderfully strong! Oh and boys/men/geezers will all love the pork delicacies (proper scratchings etc).
139 Highgate Road, London, NW5 1LE