Gardens, parks and patios are all great, but nothing beats a party on a roof right? Given the lack of sun we get over here, it's nice to get as close to it as possible when it does come out, so here is where you will find us soaking up some rays, and even better a drink or 4…
Wanna get high? You do now, meet Radio rooftop bar and terrace, it's totally awesome. Don't choke on the 180 degree view, keep cool and be sure to check out the kick ass atrium to your left. And yes there is a laser show most evenings, some light artist from Barcelona is in charge. Sick.
336-337 Strand, London, WC2R 0EZ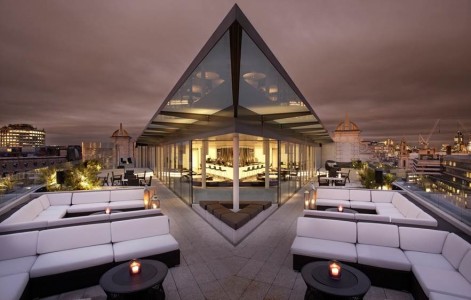 This is the kind of dolls house BarChick wanted as a kid. It's got it all from a very hot doorman to three floors of impeccable fun. Settle in for cocktails in The Parlour, dine with one of the pop up chefs in The Dining Room and finally dance in The Ballroom. If the weather is good then the roof terrace is the real deal clincher. It's the kind of place you can lounge about on picnic rugs (barefoot) and work your way through the delicious cocktail menu, beats a mate's garden any day of the week.
35 Hoxton Square, London, N1 6NN
Up on top of a multi story car park is Frank's; the best thing to hit Peckham since… well, probably ever actually. Get up here and check London's views over some serious cocktails and wines. On the food front they've fired up a massive BBQ kitchen so you can share a plate of hummus, some smoked aubergine or just good old bread and oil.
This is THE sunset spot in South London, on top of a car park that serves cocktails… need we say more?
10th Floor, Peckham multistory car park, 95a Rye Lane, London, SE15 4ST
If you thought it was just a pokey corner pub you were wrong. Take it all up to the third floor rooftop and fingers crossed that the rest of Hoxton haven't discovered the same staircase as you; It's little on the small side of things but we're in London and we can handle the tube so we can handle this place. Oh and did we mention that the only bar is on the ground floor? Buy your pint first and get your sunshine after.
41 Hoxton Street, London, N1 6NH
This members rooftop is all about holding a banging event or party. Check before hand whats going on, get a ticket and get up there, these guys know how to have a good time. Plus the views are banging… 360 degrees of london goodness… clues in the name
Netil House, London, E8 3RL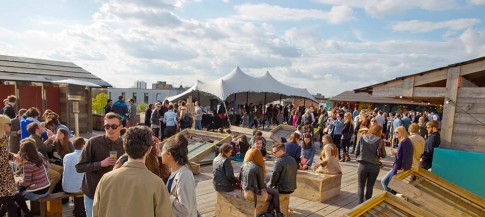 Open all year round, so get a blanket, a cocktail, and watch tourists fail to climb on the lions. You wouldn't think this hotel had one of the best roof terrace bars in town. Its views are faultless, and it's rarely as busy as it should be.
2 Spring Gardens, Trafalgar Square, London, SW1A 2TS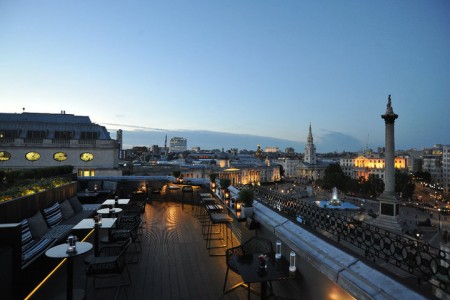 An easy spot to pass by, The Fox has had a bit of a touch up and is worth a drop-in on your way up to the trendier lights of Dalston-Kingsland. Order a pint from a well selected range of brews and if you're pecking take a look at their food menu. The small snacks are perfect for sharing, the triple cooked chips with gravy and cheese are moreish and the pork belly bites with lime are seriously good. Take it all up to the roof terrace, this is where it's at; red-check table cloths, fairy lights, picnic tables, decking and a well worked bunch of pot plants makes this place a bright and breezy hangout.
372 Kingsland Road, E8 4DA
Overlooking Piccadilly, the Terrace Bar & Grill at Meridien Hotel has its very own gin bar. If the sun is out, escape the hustle and bustle below and sit out on the terrace sipping a refreshing cocktail… heaven.
21 Piccadilly, London, W1J 0BH
Perched near the top of the dizzying Heron Tower lies Sushisamba: home to incredible views, amazing cocktails and delicious food. Hang out on the terrace under the beautiful orange tree and look out old friends the Shard and the Gherkin. Soak up the sunshine and the beautiful drinks and tuck into the Japanese, Peruvian and Brazilian cuisine. If you're heading to Duck & Waffle for food then you can hit this terrace too, just follow the orange staircase down!
Heron Tower, 110 Bishopsgate, London, EC2N 4AY
If you're a bit of a bargain hunter/hoarder then this could be your idea of heaven. It calls itself London's largest indoor market and our favourite bit is the café and hidden roof terrace for the all important pick-me-up in-between buys. The food is everything from a full English to a selection of tapas. Wash it down with beer or wine and you're ready to go again…. or skip the afternoon hunt and enjoy the view of London rooftops. Tues – Sat: 10am – 6pm
Alfies Antiques Market, 13-25 Church Street, London NW8 8DT
Some terraces can come across quite fancy and a little bit expensive, but when the suns out you're with your mates you want to be able to get outside with a flow of drinks and good food. Big Chill hear you, and that's why Big Chill house Kings Cross have launched their terrace. Expect beers, cocktails and a burger grill. Sit back on the brightly coloured garden furniture and enjoy the beats. There's a cool crowd up here, and you could easily stay all afternoon.
257-259 Pentonville Road, King's Cross, London, N1 9NL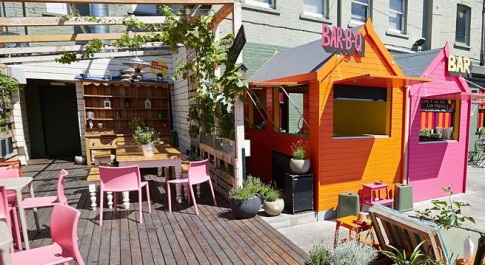 This place has got two roof terraces AND a rooftop bar with a BBQ, now that's just showing off!
p.s. BarChick's only gone and done it again and got you a wicked offer… membership usually costs £300/year however if you quote BarChick when joining they will very sweetly give you back £150 onto your membership card for you to spend on food and drink – so let the Champagne corks fly on one of their killer roof terraces. Hurry up and get involved, membership is increasing to £350 in August so don't miss this treat.
474 – 476 Fulham Road, London, SW6 1BY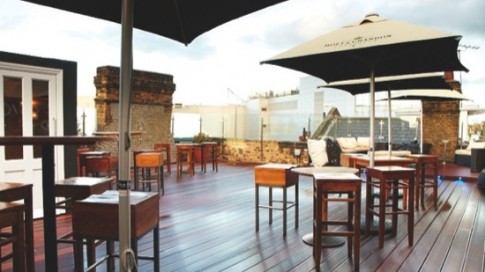 BarChick went to a kick ass rave up here once… This year the roof top garden is back and with pop-up bar, indi foodie events, outdoor film screenings and acoustic gigs. It's brought to you by Bootstrap Company, those innovative chaps who brought us the Long Table – Opening 13 April
Print House, 8 Ashwin St, E8 3DL
Perched on top of Centre Point sits Paramount, a slinky cocktail bar home to good drinks and faultless views of London's skyline. Head to the huge copper bar and choose your poison. If you don't see anything you like then these guys are more than capable of getting creative, so say what you feel like. Drink in hand head upstairs to the top bar and the viewing deck (don't be fooled it's not open air) and such up that view.
Centre Point, 101 – 103, New Oxford Street, London, WC1A 1DD
This place is awesome. They even have flamingos. It's pretty perfect. Ring ahead to double check there isn't an event on!
99 Kensington High Street, London, W8 5SA
Head here for a pocket of greenery in West London, with a fully stocked bar and more than enough pizzas to last a lifetime it's a good place to enjoy the sunshine.
Kings Mall, Lyric Square (just off of King Street), London W6 0QL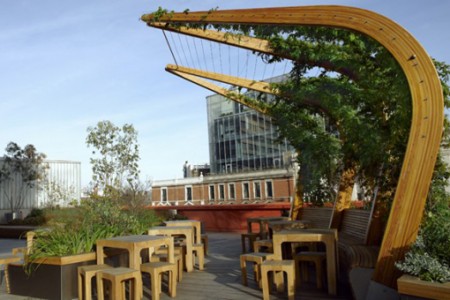 Take the lift, and get yourself a sofa with 360 degree views of London baby. Eat if you wanna, but I'd just get hammered and take in the view. Only thing wrong with it is that it shuts early, but that's just a good excuse to start early.
Redchurch Street 2-4 Boundary Street, Shoreditch, London, E2 7DD
Massive roof terrace & massive vibes. Check out their roof top film club with killer views of the city; settle down in a deck chair, wrap up in that slanket and get the jerk chicken n ting in. Get there early and enjoy the cheap Pimms pitchers. Punk.
1-5 Curtain Road, London, EC2A 3JX
Owned by Iron Maiden. Open 24 hours. Hot tub. It's pretty rock n roll if you can get up there. Book a room or blag it.
20 Warwick Street, Soho, London, W1B 5NF
Don't be put off by the tacky entrance. Up the lift are 2 of the best rooftop bars in town. You won't need the electric beach ever again.
5th Floor, 240 Regent Street, London, Entrance on 30 Argyll Street, London, W1B 3BR
Pack your trunks, look cool, and find a member to get you up there, the ultimate day time party place.
Ebor Street, London, E1 6AW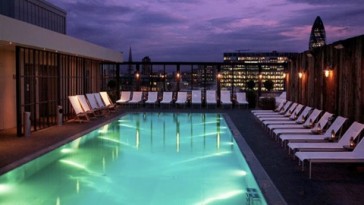 Perfect place to drag out a lunch meeting. Awesome views. You could do some damage to your card and your liver here very easily.
16 Kirby Street, London, EC1N 8TS
BBQs and a vertical garden. Boutique bar boozing at its best.
2-4 Wharfdale Road, Kings Cross, London, N1 9RY
Champagne, Shisha, Sunshine, Soho. Love it
45 Frith Street, Soho, London, W1D 4SD